News archive
2020 articles • 2019 articles • For 2018 and earlier, visit here
2021:
Our newest issue of Angel Rising Magazine, Spring/Summer 2021, is available now for viewing and can be accessed in our Current Issue section. We hope you enjoy it!
Please visit www.angelrisingmag.com

April 2, 2021 PMF Newsfeed: Our long awaited Spring/Summer edition is here!
Let us work together in empowering women worldwide by sharing our new ARM issue! Invite readers to come visit our site & be moved by our theme 'Identity." Let them know about our most inspiring stories from amazing women, browse through the creative writing pieces of women all over the world, learn some cultural recipes, be moved by artwork submissions, & see what's going on with the angels of Project Michelangelo Foundation worldwide! Announce to all that this empowerment magazine is brought to you free of any costs as a humanitarian & empowerment initiative of Project Michelangelo Foundation in "empowering women to change the world."
On the cover of Angel Rising Magazine 2021 Spring/Summer edition, Cristelle Tolentino, Miss Manila 2016 & angel of Project Michelangelo Foundation. This issue's theme is "Identity." Read all about it, learn, be inspired, be changed forever.
"
As we enter our second year in slowness and isolation, many of us can agree that quarantine has been a special time for looking inward. Without others to constantly interact with, it can be difficult to recognize your own image. But this pause in human interaction has given us a unique opportunity to dig deeper into introspection—to examine parts of ourselves we might've pushed back, or hid behind others, before. This spring, our writers invite you to read their own personal reflections on identity, during these moments of stillness. We hope that you, too, are able to hold space for yourself and the questions that come with your complexities, in some shape or form. Wherever you are in your journey, we hope these stories can bring you at least a little bit of comfort and remind you that you are not alone. As writer Ayishat Akanbi once said, "The fixation with your identity limits your identity." It is natural to feel lost in this confusing time, and though we may be physically apart, we are all just processing together."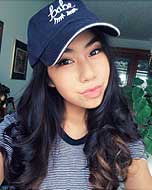 Jade Sayson
Editor in Chief, ARM
---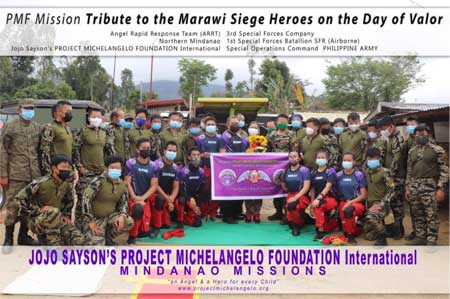 On April 9, 2021 during the Day of Valor (Araw ng Kagitingan) in the Philippines, the Northern Mindanao PMF Angel Rapid Response Team (ARRT) of PROJECT MICHELANGELO FOUNDATION International paid tribute to a Combat Medic Unit of the Special Forces Philippine Army during the celebration of the Araw ng Kagitingan (Day of Valor) in the Philippines. These combat medics saved so many civilian lives and comrades during the Battle of Marawi. PMF, through Doc Ted Everest Doc Esguerra's connection with the combat medics, facilitated the logistic support to these units through the provision of tactical equipment needed to win the war. The Battle of Marawi or Siege of Marawi is a memorable event in our history because we were able to save one of our PMF volunteers from the hands of the ISIS terrorists who held them hostage and got them stranded at the center of the hot zone. The Battle of Marawi (Filipino: Labanan sa Marawi), also known as the Marawi siege (Filipino: Paglusob sa Marawi) and the Marawi crisis (Filipino: Krisis sa Marawi), was a five-month-long armed conflict in Marawi, Lanao del Sur, Philippines, that started on May 23, 2017, between Philippine government security forces and militants affiliated with the Islamic State of Iraq and the Levant (ISIL), including the Maute and Abu Sayyaf Salafi jihadist groups. as per our PMF Missions Commander Rhondell M. Paraiso states below: The PMF ARRT leveled skills with the troops, refreshed their skills and introduced mechanism that could help wounded comrades in battle survive and reach the hospital. With the performance of our young trainers and the professionalism of our volunteers, the troops wanted to have another engagement of refreshers trainings with our team. Definitely, this is not the first and the last visit. And this is not the only unit of the Special Forces that we will help. We brought medical supplies, dental hygiene kits, food items and other essential for the troops. They expressed their need for medical items and supplies. They were not resupplied since 2016. The morale of the troop was low. They lost one comrade and left one in the hospital with amputated leg in the last encounter. Last week of March. We raised it when we were there - we made them laugh and we engaged stories - but we cannot change their situation with the issue they presented to us. Every item they mentioned mean an assurance that a wounded comrade will survive. "Kahit tourniquet, Sir, malaki ang chance na mabubuhay ang kasama namin." A single tourniquet gives a wounded soldier a fighting chance to live.
See our video tribute on Youtube: Project Michelangelo: Tribute to the Heroes of Marawi with the Angel Rapid Response Rescue Team 2021 - YouTube
---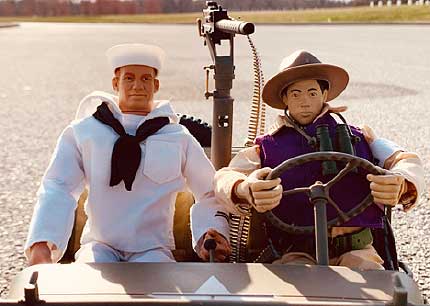 April 5, 2021 PMF Newsfeed: Empowerment Initiative on FB
Presenting an Empowerment Storytelling Mission of Project Michelangelo Foundation using photography of 1/6 scale GI Joe action figures & doll characters with stories created by Jojo Sayson to give hope to those who grieve & miss their loved ones that all things will be restored in the name of Jesus Christ's Resurrection in a place called Heaven home. Presenting…"Welcome to God's Country; Me & my best friend Ray." The premise of this mission is based on a lifelong friendship between a WWII Navy Veteran & a Filipino. To date there are already 4 episodes & more to come with incredible props.
Prologue by Jojo Sayson:
"My best friend Raymond Joseph Olley faded away on the 4th of July, 2020 around 8:30 pm just around when the fireworks began for the celebration of the Independence Day of the United States. He was 97. I was by his bedside singing his favorite songs & praying. When he finally breathed his last, I stood up in attention, gave him my last salute then cried. Ray was a devout Catholic & we have both a devotion to Mother Mary. Though we had a 40 year difference in our age him being born in 1923 & I in 1963, we were still just like teenagers in our hearts. Ray loved his wife Jane & he began to fade away when she departed in early 2020. Oh how I miss Ray. But wait, with Jesus Christ, there is no death for He conquered this to save us all.
On April 4, 2020, Easter Sunday, I returned to Abraham Lincoln National Cemetery but this time not to visit his tomb but to find him & take him with me for I have returned as a child. Behold the world of an innocent child in the continuing saga of best friends & more in this extension of heaven. May I present you the beginning of new adventures in "Welcome to God's Country: Me & my best friend Ray" the adventures continue... an adventure of love for God, country, & honoring those who have been inspirations to humanity."
View the album on Facebook.
---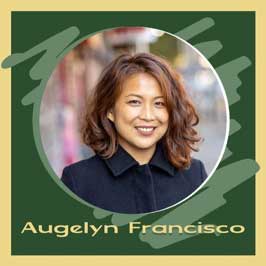 April 3-4, 2021 PMF Newsfeed: Joyous congratulations & salutations to one of our angels, DJ Chinita aka Augelyn Francisco, of New York who has helped tremendously in 3 major PMF fund drives in New York for our Progeria kids! We owe much to this lovely angel. Congratulations with love from your PMF family!
---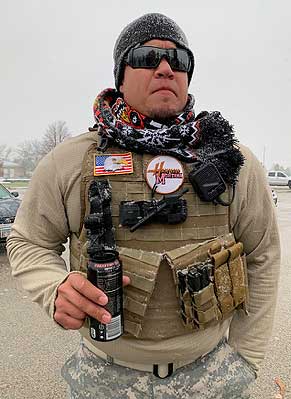 March 29, 2021: Congratulations to angel bro Eric Peterson for being featured together with his wife Ashley in the Tamron Hall Show on his dilemma & lessons learned in life about serving his country or being a family man. He found a mission in founding his Project Headspace & Timing to help veterans suffering from PTSD & counter suicide. Angel bro Eric has been a logistics sponsor for our Northern Mindanao Angel Rapid Response Rescue Team under the direction of angel bro Rhondell M. Paraiso. Watch Eric & Ashley's interview on Youtube:
https://www.youtube.com/watch?v=4KNas_ioCJs

---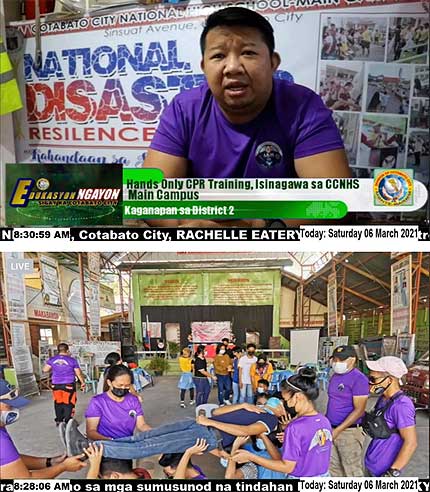 March 27, 2021 PMF Newsfeed: Congratulations angel bro Datu Haasad Daasah Tausnis II !
Here is a shout-out thank you for a job well done for another PMF Mission REACH in Cotabato City & a fine appearance on TV to represent PMF. Special shout-out thank you to the author of PMF Missilon REACH, angel bro Rhondell M. Paraiso, PMF angel Commander Mindanao Angel Rescue, Philippine Executive Director Enrico L. De Guzman & the inspiration of angel bro Ted Esguerra!
---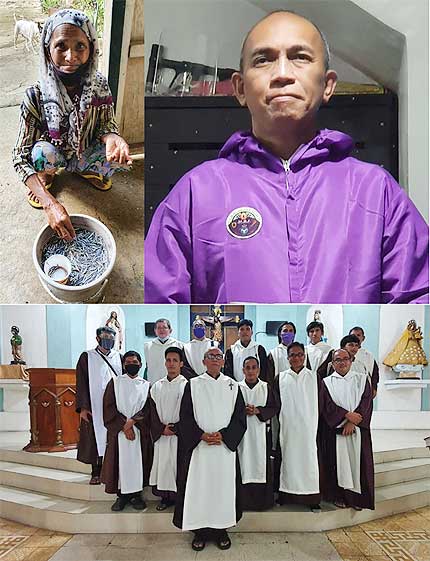 March 26, 2021: PMF Newsfeed: Thank you for caring for the indigenous tribespeople angel Bro Martin Francisco! You represent PMF well & honorably there in Tawi-Tawi, Mindanao, Philippines. For those who are unaware, our angel bro Martin Francisco belongs to a religious order assigned to the most dangerous places in the Philippines Taw-Tawi being one of them where clergy & brothers suffer from occasional harassment & on sad events, even assaulted or murdered in the mountains. Please send extra prayers for this courageous angel bro of ours & a servant of the Lord Jesus Christ. At the moment, we are brainstorming on a livelihood mission we could potentially start to help the indigenous tribes become self-sufficient.
---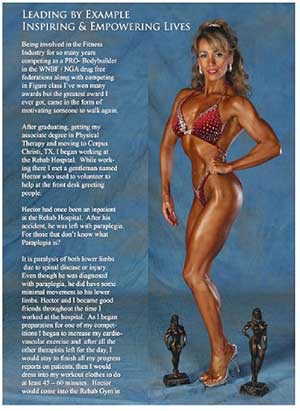 March 25, 2021: PMF Newsfeed: Congratulations & we are very proud of you angel Skie Molinar for being featured in San Antonio Monthly Magazine 2021.
a repost from angel Skie: "Leading by Example"
"Due to my recent circumstances wasn't able to share now. I know my son would want me to continue Living, Loving, helping others through physical therapy, coaching and writing." – Skie Molinar
---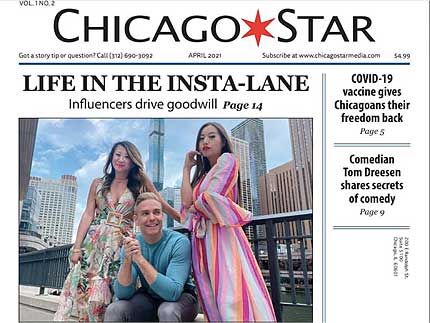 March 26, 2021: PMF Newsfeed: Congratulations dear angel Meiling Jin, our PMF Chinese Ambassador currently residing in Chicago, Illinois, USA, for once again being in the limelight for her tremendous modeling & TV reporting career! So exciting to always hear good things about our angels! Hope to see you again in the Philippines angel Meiling Jin!
---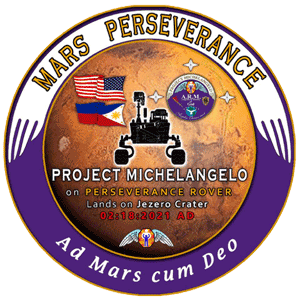 To commemorate & express gratitude to NASA's send your name to Mars 2020 campaign on Perseverance Rover, Project Michelangelo Foundation (PMF) introduces their official PMF Mars mission patch when the PMF name together with almost 11 million name passengers, reached the Red Planet last Feb. 18, 2021 after a successful landing at Jezero Crater.

PMF is proud to have participated with special thanks to our late angel bro Mike Burns, PMF Expedition Coordinator, for spearheading the registration of our PMF name on board "Percy" the Rover. Project Michelangelo represents the many names of our angels, heroes, volunteers, & all the cheerful donors & children recipients of their humanitarian missions. "Ad Mars cum Deo" - To Mars with God" is our motto for this new mission patch. God bless us all.

Dare to live in the sky – Jojo Sayson, President/Founder PMF
---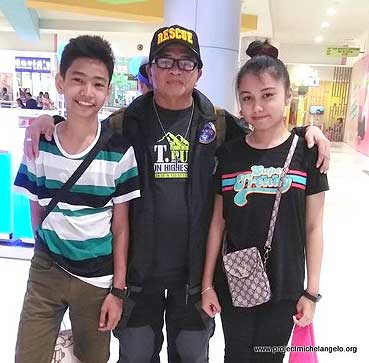 March 9, 2021 PMF Newsfeed: Our 2 Project Michelangelo assisted High School students-scholars have both done it again! They are moving forward with high honors on top of their class on this 3rd quarter for the schoolyear 2020-2021 in Bulacan, Philippines. They are Lianne O Valcos & Justin Gio de Guzman. With special thanks to our angel bro Enrico L. de Guzman, these kids have an angel to look up to. Become an Angel & a Hero for every Child!

---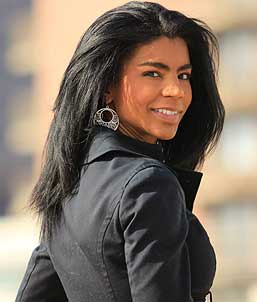 March 11, 2021 PMF Newsfeed: Project Michelangelo Foundation is pleased to announce Desiree Fletcher Caruthers of Des Moines, Iowa, USA, as Ambassador and new addition to the editorial staff of Angel Rising Magazine. She is a high-energy champion of good health as a wellness coach, Pro-Natural Bikini bodybuilding competitor and co-host of the weekly "Real Talk with Desiree & Kaelin" podcast as well as host of a nutrition program, "Temple Building from the Inside Out" on KPOG Power of God 102.9 FM.
---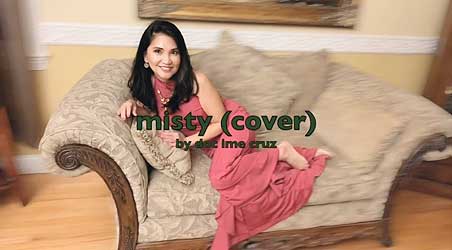 March 8, 2021 PMF Newsfeed: During the COVID-19 pandemic when lives were disrupted and severe limitations were imposed on travel, business, and social contact, Doc Ime, Vice President of Project Michelangelo Foundation in New York, adapted by being creative with her time. She has recently found herself enjoying recording cover songs during this pandemic. She started with a few oldies songs way back in the '50s up to the currents in 2010s. The genres include jazz, ballad, bossanova and pop. The fun part was when her friends started requesting for their favorite songs to be covered by her. Music is definitely therapeutic, and during these times when the problem is global, each and every one can turn to music...a universal language. Angel Doc Ime to date has been donating part of her proceeds from the sale of a jazz CD she specifically recorded as a fund raising initiative for our PMF missions for children. To hear her awe inspiring music do subscribe to her Youtube Channel "Doc Ime Cruz."
---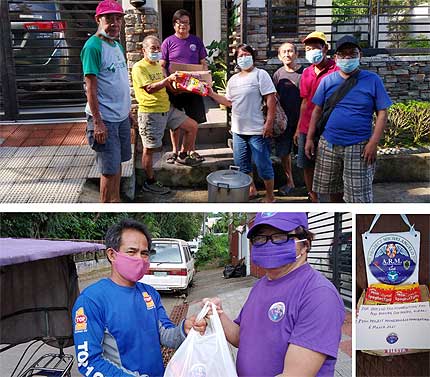 March 6, 2021 PMF Newsfeed: Angel bro Enrico L. de Guzman is unstoppable!
Our PMF Executive Director in the Philippines may be forced to quarantine to stay home due to government strict lockdown regulations but this does not stop him from his momentum of goodness & selfless servitude to humanity. He constantly does one-man missions at least around his neighborhood to share whatever he could muster due to the poverty around his home & the financial hardship of local workers from security guards to passenger tricycle drivers. He even uses his own financial resources when our PMF funds run low. This man is a true angel! Below is a repost from his recent mission carrying the flag of Project Michelangelo Foundation.
"JUST MY THOUGHT BEFORE I LAY DOWN TO REST 3/6/2021- "PMF CARES (Project Michelangelo Foundation) : Always in the thought of how we can help make lives better for the others even in the most simple and humble way.
Gave a box of Spaghetti Packs to Buklod Tao Foundation of Banaba, San Mateo, Rizal which they are going to cook and feed to the children in Laylayan area of Banaba come 20th of March 2021 coinciding with their special event. THANK YOU BRO, BRO NOLI ABINALES WITH YOUR BTF DIRECTORS FOR GIVING US THE OPPORTUNITY TO SHARE FOR OUR CHILDREN!"
---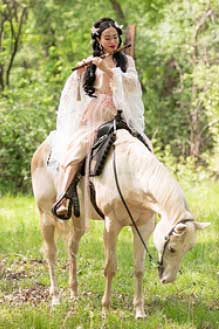 March 4, 2021: Jennifer Zhang, an angel of Project Michelangelo Foundation becomes the 1st Chinese Woman to Win "Best Asian Entertainer" at the Chicago Music Awards 2021. With Americans fighting with the Coronavirus, there has actually been a regrettable and spike in anti-Chinese sentiments and violent attacks on Asian-Americans throughout the world. Jennifer is proud to be Chinese and intends on utilizing the award as a platform versus xenophobia, hoping that this will assist influence and boost minority artists in Chicago land and beyond to chase their dreams with self-confidence. During the hour-long event which will telecast on NBC 5, Jennifer gave a dazzling performance of her initial single "On the Throne", singing, playing the Chinese bamboo flute (dizi), and dancing together with 2 of her back-up dancers. Jennifer provided a touching speech on the effect of the Coronavirus pandemic on the artist community along with the minority Americans in our nation. Jennifer Zhang is widely known for her achievements as an artist, design, starlet, social networks influencer and business owner. In addition to being a vocalist, pianist, and author, Jennifer plays 9 various Chinese instruments consisting of the Chinese transverse bamboo flute (dizi).
---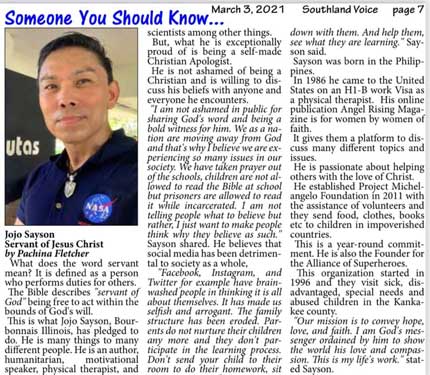 March 3, 2021: Thank you Southland Voice Newspaper for printing an interview write up about me. Thank you for publishing the name "Jesus Christ." I truly appreciate this especially today in a modern world that seem to constantly shy away & remove the name of God.

Godspeed - Jojo Sayson, President/Founder PMF
---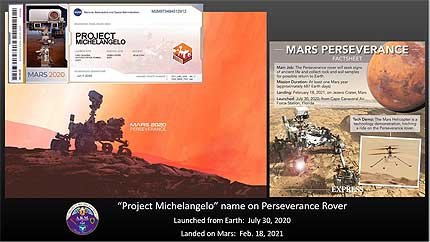 Feb. 18, 2021: Project Michelangelo's namesake is now on Mars!

I am overjoyed of the opportunity NASA granted to allow 10 million names to be sent together with the Perseverance Rover so now, "Project Michelangelo," registered by our Project Michelangelo Foundation (PMF) Expedition Coordinator, the late angel bro Mike Burns, is now on the Red Planet!

The largest, most advanced rover NASA has launched to another world last July 30, 2020, touched down on Mars Thursday, Feb. 18 after a 203-day journey traversing 293 million miles (472 million kilometers). Confirmation of the successful touchdown was announced in mission control at NASA's Jet Propulsion Laboratory in Southern California at 3:55 p.m. EST (12:55 p.m. PST).

To the late angel bro Mike Burns, all the PMF angels, heroes, superheroes, volunteers, cheerful givers, & the children & other recipients of our humanitarian missions,

We are now on Mars! Godspeed PMF family - Jojo Sayson, President/Founder PMF International
---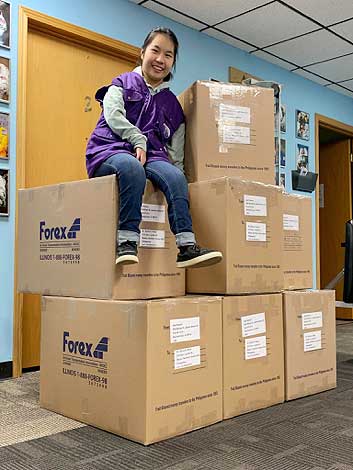 Jan. 17, 2021 PMF Newsfeed: With junior angel Lia Kemnetz as angel team leader, the 7 Balikbayan Boxes for Hug-a-Baby for Christmas through the New Year 2021 collection were shipped and on its way to benefit the destitute newborns & children in Northern Samar, Philippines under the supervision of angel doc Maria Sylvia Agudo Pacle. Plan well & do create a return mission to the Mamanwa Tribe. Great job leading this Baby needs drive junior angel Lia Kemnetz! Congratulations on your year 3 doing this! You are an inspiration!
---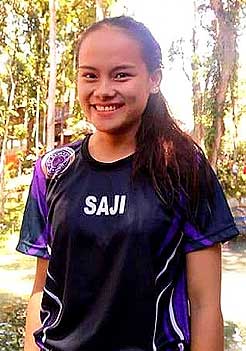 Jan. 9, 2021 PMF Newsfeed: Thank you to the PMF Angel Rapid Response Team (ARRT) with angel team leader Ailbrey Mae Aniel II for a successful tree planting initiative in Malaybalay, Bukidnon, Northern Mindanao, Philippines. Project Michelangelo Foundation (PMF) protects Mother Earth to help foster a better world for the children today & their children tomorrow. We plant trees, we care, we are committed to be stewards of God to care for this planet.

---