News archive
2021 articles • 2020 articles • For 2018 and earlier, visit here
2019: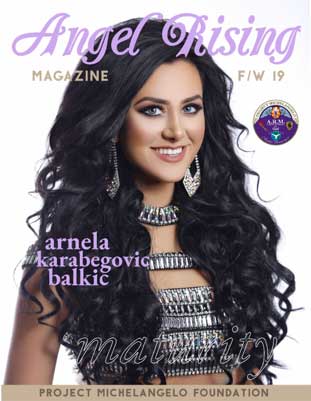 Our Angel Rising Magazine 2019 Autumn-Winter October issue is here! On the cover is Arnela Karabegovic Balkic, Bosnian-American refugee turned successful model & entrepreneur! Arnela is also an Angel of Project Michelangelo Foundation. Read about her amazing feature interview feature & so much more. Learn from our other feature interviews as well as the insightful submissions from women writers from across the globe. Click onto www.angelrisingmag.com.
A message from Jade I Sayson, Editor-in Chief, ARM:
"This issue is about
Maturity
-an ability to respond to the environment according to the circumstances of the society that one lives in. But maturity can be defined in multiple ways whether it's physical, emotional, or a combination of both. What's your coming of age story? Do you believe you've reached yet, or do you think you still have a long way to go? While there's no right or wrong answer, we hope the stories these women have shared allow you to recognize and appreciate your growth. We must not let other people's paths discourage us from taking our own. Rather, we should let them inspire us to keep on going. Everyone learns at their own pace, and life doesn't always have to be about the rush for the finish line."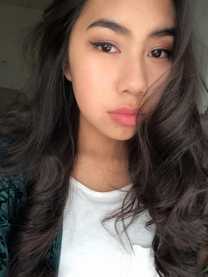 Jade Sayson
Editor in Chief, ARM
---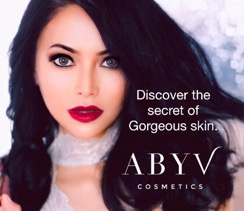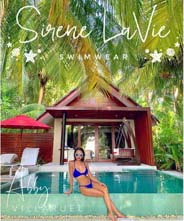 Congratulations to our Angel Abby Villaruel, our Angel Rising Magazine Ambassador for the launching of her new business endeavors this Autumn of 2019, ABYV Cosmetics and Sirene LaVie! ABYV cosmetics is founded by Abby, With over a decade worth of experience and expertise in Aesthetic Medicine, Dermatology and Plastic Surgery. She created a medical grade skincare make-up line for every skin type. Please visit her website and shop at www.abyvcosmetics.com. At Sirene LaVie, her business mission is to empower all women not only to look good but also to feel good about themselves by creating a swimwear that fits and flatters every woman regardless of age and body shape. Abby, a fashion, travel and fitness influencer and enthusiast adds "I founded 'Sirene LaVie with great pride to provide only the highest quality materials and fabric to all those who like to travel the world in comfort and style. Sirene LaVie is a 100% cruelty free fashion brand." Visit and shop at www.SireneLaVie.com and follow her Ig @abby_villaruel & @sirenelavie. Angel Abby chooses Project Michelangelo Foundation to receive a donation as a percentage of each merchandize sold on her swimwear line.
---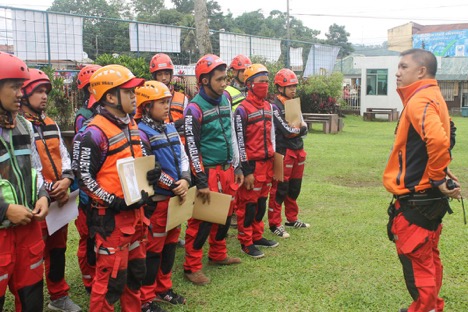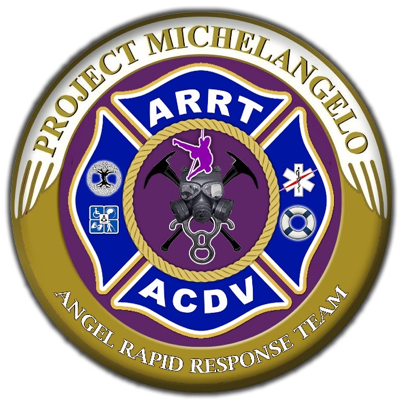 On Tuesday, Oct. 29, 2019, a magnitude-6.6 earthquake struck the Southern Island of Mindanao in the Philippines and sent people fleeing in panic from their homes and caused significant structural damage to buildings. Our PMF A.R.R.T (Angel Rapid Rescue Response Team) sprang into action and helped evacuate the students of Bukidnon State University and on high alert for rescue action in coordination with regional and local emergency institutions. This specialized all-volunteer angel rescue unit is constantly in training for disasters both natural and man-made under the leadership of PMF Field Commander, Rhondell M. Paraiso.
---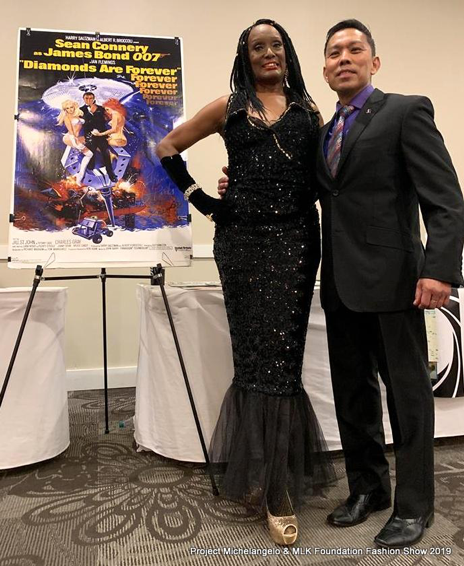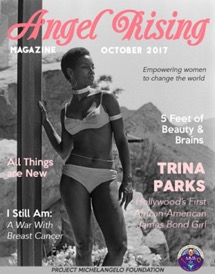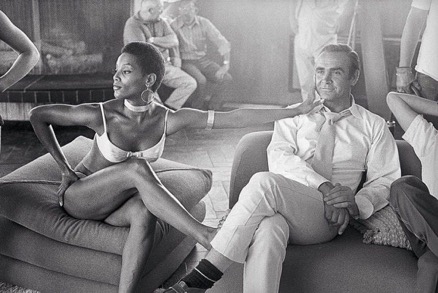 "Bond Girl helps Project Michelangelo Foundation." Hollywood legend Ms. Trina Parks, aka Thumper, the "1st African-American Bond Girl" & co-star with Sean Connery in the 1971 James Bond movie "Diamonds are Forever," helped raise funds for the children's empowerment and rescue missions from Illinois to the Philippines in a successful, one-of-a-kind exclusive Fashion Show held in Bradley, Illinois last April 14, 2019. Trina is seen here posing with Jojo Sayson, President and Founder of PMF. This event was made possible in partnership between the Martin Luther King Jr. Memorial Foundation & Project Michelangelo Foundation. Special thanks to MLK Jr. Foundation President Dr. Patricia Polk. Trina was also a past cover girl for Angel Rising Magazine October 2017. Photo with Trina Parks and Sean Connery is an archive photo at the set during the filming of "Diamonds are Forever" in 1971.
---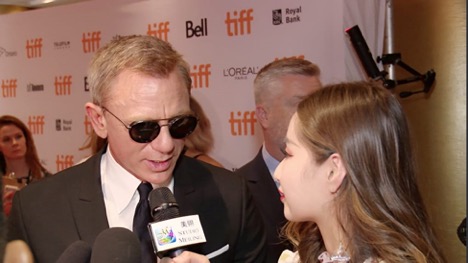 Angel Meiling Jin, Project Michelangelo Foundation Board of Director interviewed James Bond actor Daniel Craig on the red carpet at the Toronto International Film Festival held from Sep 5, 2019 through Sep 15, 2019 in Toronto, Canada. Meiling Jin, Project Michelangelo Foundation Chinese Ambassador, was featured by the Associated Press, Jan. 18, 2019 with an article titled "Chinese-American Journalist Meiling Jin Cheats Death, becomes one of America's Top Multicultural Influencers." Meiling Jin is now a major media producer and journalist, and CEO of Meiling Jin Productions.
---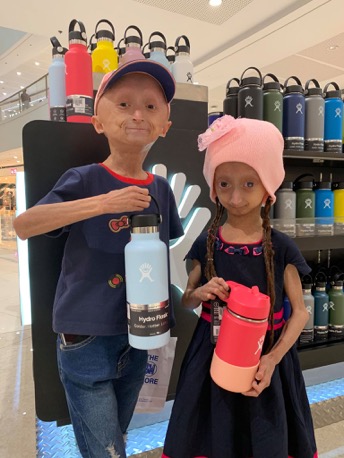 "Say no to Progeria." Junior Angels Kim Danielle Asis and Shelly Rose Altares reunite in the Philippines during the Project Michelangelo Foundation (PMF) 2nd Assembly of International Officers and members including new angel inductees last July 29, 2019 held at the Philippine PMF Headquarters in Quezon City, Philippines. Kim and Shelly Rose were treated to a shopping spree at a local mall care of the generosity of donors of PMF worldwide. PMF is the official protectorate of the 4 known living cases of children diagnosed with Progeria (advanced aging in children) or Hutchinson-Gilford-Progeria Syndrome.
---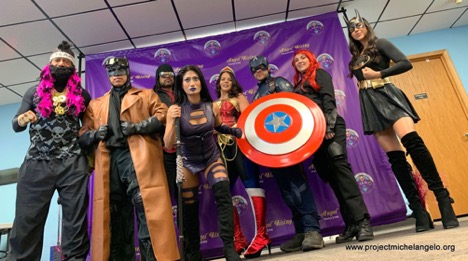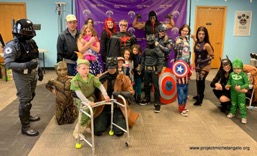 On its 23rd year of service to the community, The Alliance of Superheroes (AOS) celebrates Halloween with children but in the spirit of angelic faith to inspire & empower special needs children & all other children to always choose good in life. The AOS is a subsidiary of Project Michelangelo Foundation (www.projectmichelangelo.org) & aims to teach children to be angels & heroes for humanity in the name of the Lord your God. Hospital visits to the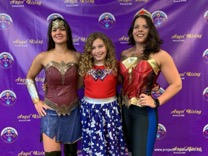 children's ward is a yearly mission to spread cheer & prayer then onward to the Project Michelangelo Foundation HQ in Bourbonnais, Illinois. Disclaimer (Recognizable Superheroes portrayed in costumes are all public store bought items & copyrighted by corresponding comic hero institutions. All photos with children were done with permission from their parents or guardians).
---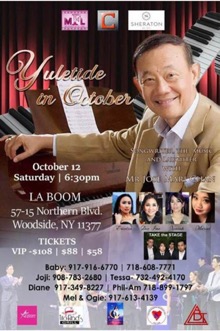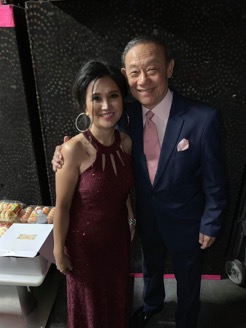 Oct. 16, 2019 PMF Newsfeed! Congratulations to our angel VP Doc Ime Cruz, our singer extraordinaire for singing with Philippine legend Jose Mari Chan in a concert in New York! Always Applauding & with Hugs - Jojo Sayson
---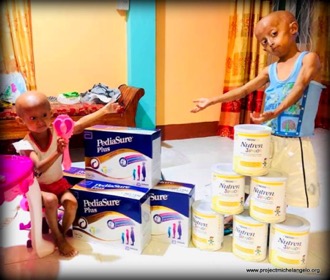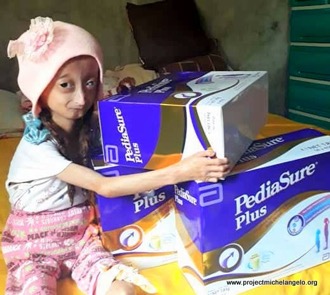 Our Progeria siblings Nezha & Jeshaiah Agbayani together with Shelley Rose Altares finally received a replenishment of their milk supply thanks to the kind donors of Project Michelangelo Foundation through the leadership of angel bro Enrico L. de Guzman last Oct. 2019 in the Philippines.
---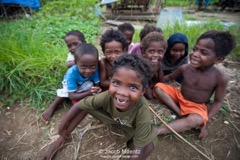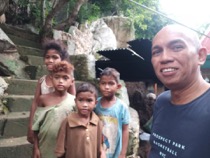 Oct. 16, 2019: PMF Newsfeed: Our new PMF Mission addition: The Children of the indigenous Dumagat Tribe of Sierra Madre mountains of Norzagaray, Bulacan, Luzon, Philippines c/o our upcoming new angel Bro Martin Francisco. Please include this mission in your prayers. We still have so much to do in this world & we can do this with a combined operational cooperation with dedicated people like angel Bro Martin Francisco & his incredible devotion to humanity & the Lord your God.
---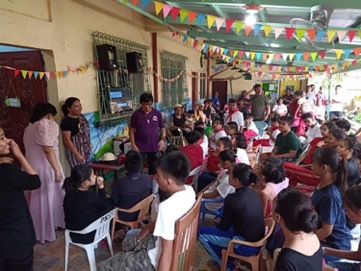 Project Michelangelo Foundation represented by angel bro Enrico L. de Guzman, Executive Director, PMF Philippines, delivers an empowerment mission with a donation of 2 microphones for use of special needs children and the faculty of Blessed Ville Special School (BVSS) Foundation in Luksuhin Ilaya, Alfonso, Cavite. Founded in 2002, It's mission: "Every child with special needs has a right to an educational program that is suitable to his needs. It is the utmost responsibility of Blessed Ville Special School to fulfill the right of the child to develop his maximum potential."
---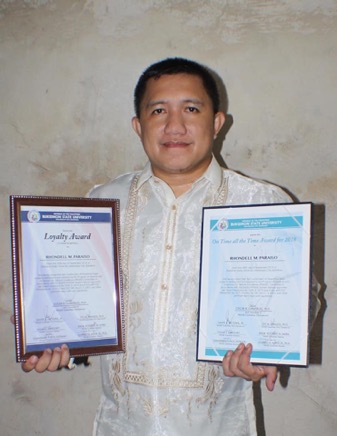 October 3, 2019 Newsfeed: Congratulations angel bro Rhondell Melendez Paraiso, operations commander of the Northern Mindanao Angel Rescue Team & ARRT for receiving recognition awards for his loyalty & diligence for his being an outstanding teacher of PMF partner Bukidnon State University in Malaybalay, Bukidnon, Philippines. Mabuhay brother & thank you for always carrying PMF together with your purple heart on your sleeve. Salute! - Jojo Sayson
---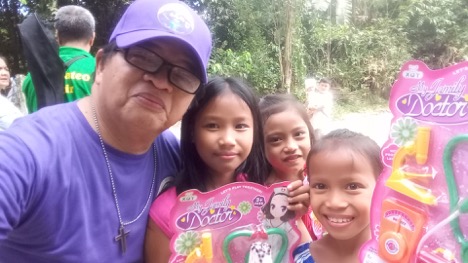 Congratulations angel bro Enrico L. de Guzman, Executive Director of PMF Philippines aka "The Amazing Toyman" for rising to the top of the list of nominated Teachers in the Philippines by former students because of the impact in their lives from compassion & kindness from a teacher to a student. This is testimony to the kind of person you are even before PMF from your High School Teaching days at Lourdes School of Mandaluyong, Philippines. We, your PMF family are always pleasantly proud of all your accolades. God bless you angel bro! Hugs & cheers! - Jojo Sayson, President/Founder PMF
---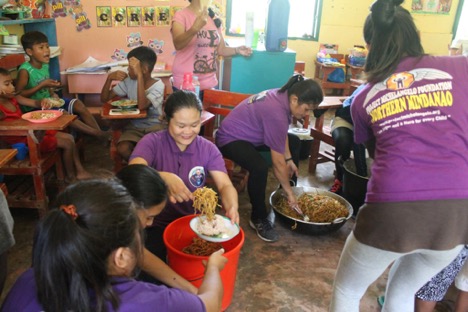 August 27 Newsfeed: The Northern Mindanao Angel Rescue Team goes in to the hinterlands to visit & empower the tribal children of the mountains. Here is an excerpt from angel bro Rhondell M. Paraiso, Field Commander of Project Michelangelo Foundation Mindanao, Philippines.
Acts 2:46
"Day by day continuing with one mind in the temple, and breaking bread from house to house, they were taking their meals together with gladness and sincerity of heart..."
Searching for the most remote community to help the people forget the pains of humanity is one of the most noble gestures of the Jojo Sayson's PMF Northern Mindanao during the conduct of Mission ELIJAH SEVEN (Emang). The breaking of bread, sharing of the humble pansit and rice, after a long perilous journey, is one of the most awaited moments of the village people.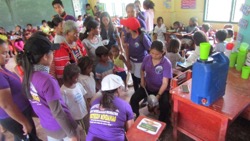 This humanitarian mission was guided by the careful planning of PMF NorMin Officer, Nanay Mary Jean Paraiso (PMF NorMin Planning Officer). It was conducted by 18 PMF volunteers with their friends, mothers and other family members.
Nanay and I, I brought our sons, Pryncz Leinor and Llyd Naej'ram to experience first-hand genuine mission work. It was a wonderful learning experience for them - and for the young volunteers.
PMF Mission Elijah Seven is dedicated to Elijah Lachica on his sevent birthday (2018). The team planted assorted fruit-bearing trees, coconuts and bamboos in the village. This is his special birthday gift from his father, Emang. We will return November 2019 to this remote Matigsalog village. We want to do more.
Jojo Sayson's Project Michelangelo Foundation International
Northern Mindanao Mission Elijah Seven
"an Angel and a Hero for Every Child"
---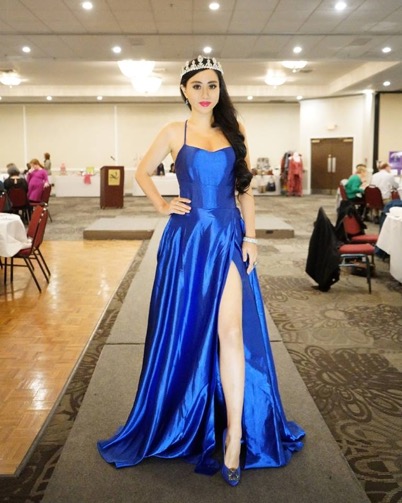 Angel Jennifer Zhang, Chinese Ambassador for Project Michelangelo (PMF) and past cover girl for Angel Rising Magazine, helps raise funds for the children's empowerment and rescue missions during the Fashion Show "In the Arms of an Angel" last April 14, 2019 in Bradley, Illinois USA. She makes a special appearance with modeling and a musical performance introducing her 1st music video "Flying High" and is receiving rave reviews! As a professional model for Uniqlo USA and music entertainer, Jennifer was recently selected as the 2019 Brand Ambassador for Freedom of Rave Wear and featured on Fox Asia Magazine as Asian Model to name a few of her incredible accomplishments.
---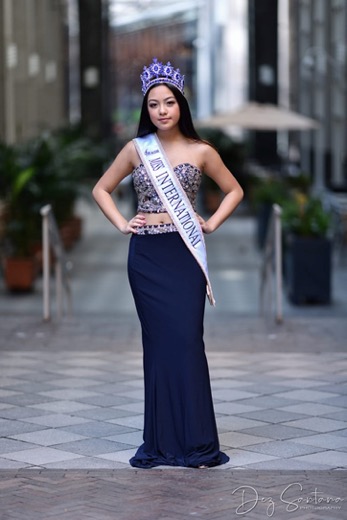 Angel Ysabella "Bella" Marie Alberto, crowned Miss Teen International Tourism ambassador 2019, recently received her golden sash and her Blue crown for her ambassadorship. Bella will be travelling to the Philippines this March 2020 to do a "Mission of Compassion" with the 500 Children of Tibag, Tarlac as part of her ambassadorship. Bella, now a fashion model, recently joined International Fashion Week with the designer Marcie Concepcion of Concep design. Aside from being the Ambassador as well to Project Michelangelo in New York promoting Mission Braille for the Blind to assist and empower vision impaired young women in the Philippines, she is also a sworn protector of children in the Philippines diagnosed with Progeria. Bella also helps the Princess Club of the Hand Foundation under the mentorship of her life coach, Dr. Sandrie Serrano-Bermudez.
---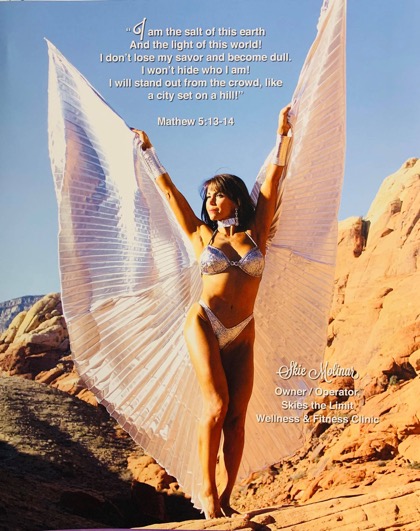 Angel Skie Molinar of San Antonio, Texas was featured in "Inspiring Woman Book," Inspiring Quotes and Stories from San Antonio's Most Successful Women. Skie, an ageless natural bodybuilder is a Physical Therapist Assistant in Texas and is the owner/operator of Skies the Limit Wellness & Fitness Clinic. This amazing woman was also a past cover girl for Angel Rising Magazine.
---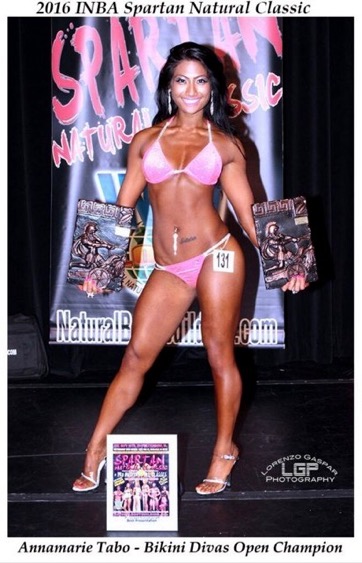 Annamarie Tabo, 32, is a Filipina-American athlete born and raised in Chicago. She is a Pro Bikini Competitor for the INBA/PNBA (International Natural Bodybuilding Association/ Professional Natural Bodybuilding Association). In 2016, Annamarie took first in Bikini Diva Novice at the Spartan Natural Classic. She was awarded Best Presentation along with her Pro Card. In 2017, she represented TEAM USA at the Natural Olympia and placed top 10. Most recently in August 2019, Annamarie took first in Fitness Model and 3rd in Bikini Diva Pro at the Pro/Am North American. She is a technically trained dancer, print model, actress and motivational speaker. She aspires to inspire and empower young women and is excited to serve the Lord as one of the newest angels of Project Michelangelo Foundation.
---
---
Hear ye! Hear ye! Read all about it!
Our Spring/Summer 2019 edition of Angel Rising Magazine is here! On the cover is Abby Villaruel.
"Empowering women to change the world"
A message from Jade Sayson, Editor-in-Chief, Angel Rising Magazine:
April, 2019
The changing seasons reflect who we are, and this spring, it's about reclaiming ourselves. The best part? We're completely in control of what we do to stay in tune with ourselves, whether that be through a daily ritual you've decided to keep up with, a yoga class worth waking up for, or simply cooking up a special meal.
This issue is about self. Appreciating and recognizing one's own strengths should never have a negative connotation. Rather, it should be a celebration—of womanhood, of our talents, and of every little thing we're doing in order to keep living in this world.
We hope the stories these women are about to share with you inspire you to embrace your entire being. Although the phrase "self-care" has been oversaturated by the grand scheme of marketing, it's important that we take a step back and reflect on what this phrase means to each and every one of us. Self-care can take on many special forms.
Putting more work towards a personal project after hours rather than throwing on a face mask and reading a book might be a more accurate definition for one person than it is for another. It is different for everyone, after all. What works for you?

---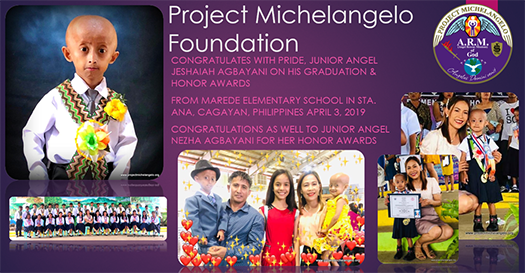 Our Progeria sibling recipients have been outstanding students at Mareda Elementary School in Sta. Ana Cagayan, Philippines. God bless these amazing and inspiring children of the Lord your God.
Jojo Sayson, President/Founder PMF
---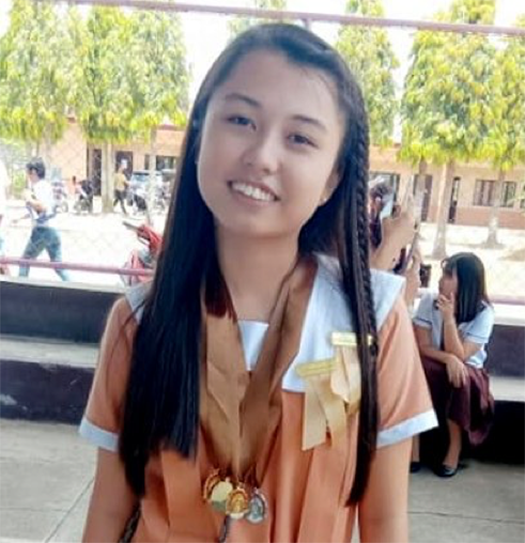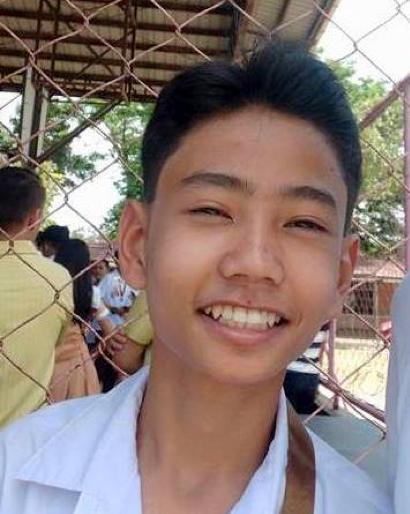 Project Michelangelo Foundation wishes to congratulate these 2 students of Our Lady of Mt. Carmel College, Baliuag, Bulacan in the Philippines for finishing the school year 2018-2019, with honors of distinction; LIANNE MAY ORTEGA VALCOS, 1st place outstanding academic achievement among the 2nd year High School students and GIO JUSTINE DE GUZMAN, number 2 academic excellence among Grade 7 students. These young students are under the inspiration and assistance of Mr. Enrico L. De Guzman, PMF Philippines Executive Director. You made us all proud of you!
---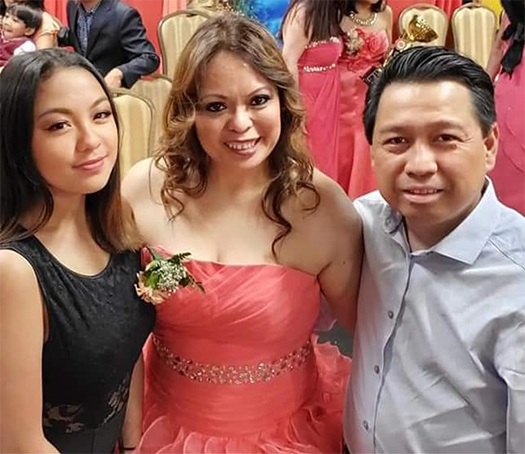 March. 2019, New Jersey, USA: Janette Doria De Guzman, angel team leader for Project Michelangelo Foundation's new Mission Braille for the blind in the Philippines, receives a prestigious "2019 Women Achiever Honoree Award-Excellence in Nursing Management" from the Pan American Concerned Citizen's Action League during the 2019 Women's History Month, March 2019.
---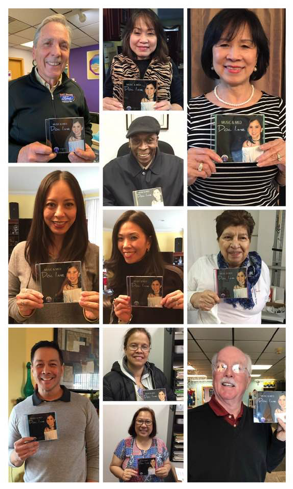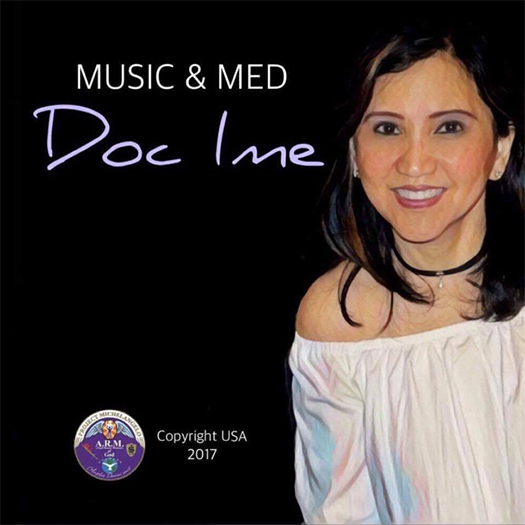 Feb. 19, 2019 Newsfeed: Thank you with all the love dear angel VP Doc Imelda Cruz of New York, USA for continuously donating all the proceeds of the sale of your amazing CD for the missions of PMF. Because of you, we continue to fly high for the children we empower and rescue worldwide. I bless you abundantly. – Jojo Sayson
---
Congratulations to Project Michelangelo Foundation International Team Northern Mindanao, Philippines, our Humanitarian, Emergency (water rescue and forest fire suppression), and Empowerment rescue team for a continuous expansion of volunteer membership and training. Special thanks to the Bukidnon State University for partnering with Project Michelangelo Foundation.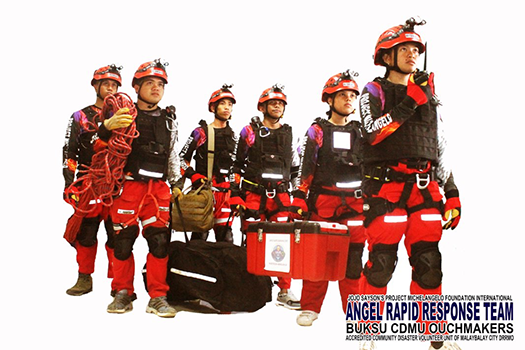 Our newest unit: Fire: Wild Fire Suppression training of the PMF Team Northern Mindanao Angel Rapid Response Team (A.R.R.T.) and the Wild Fire Angels.
---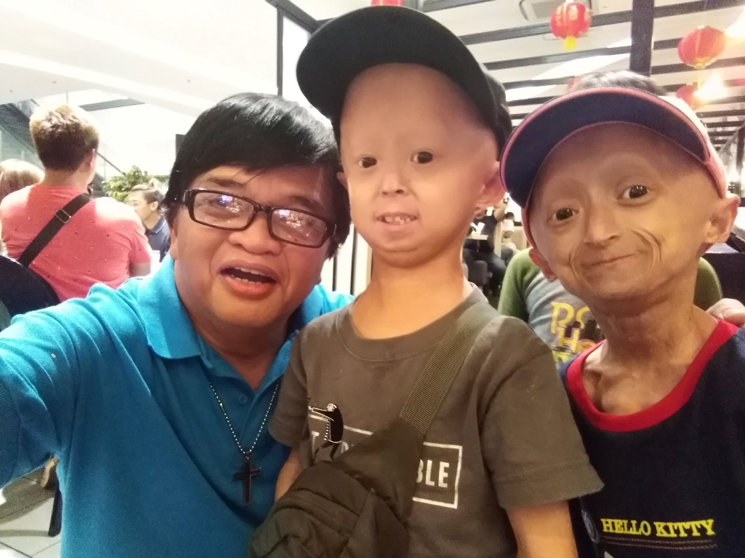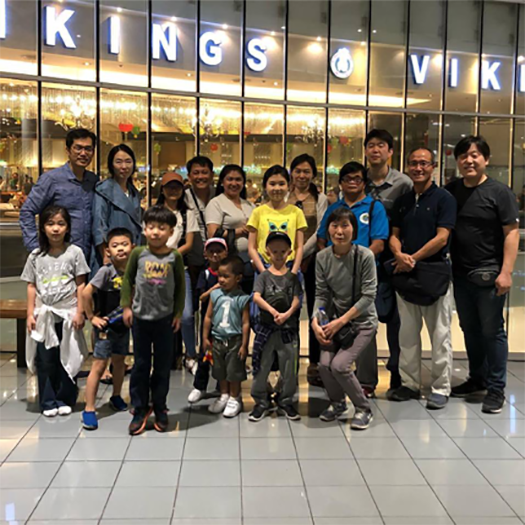 Project Michelangelo Foundation through the representation by PMF officers Enrico L. De Guzman and Dennis Asis accompanied by junior angel Kim Asis welcome WongKi with his family to the Philippines. Wongki is a South Korean boy diagnosed with Preogeria as well. Hope you enjoyed the company of our PMF angels in your brief tour of the City of Manila.
---
January 2019 Video Chat with Kim from Bourbonnais, Illinois to Boston, Massachusetts.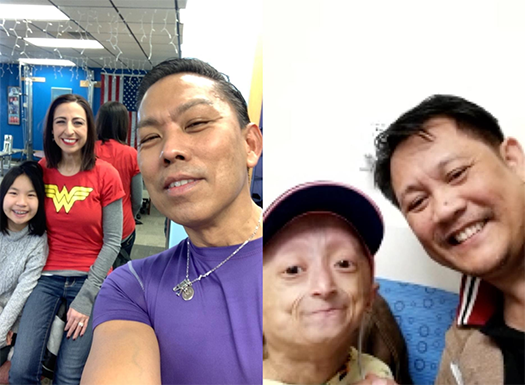 Jan. 27, 2019 Newsfeed: Please join us in special prayers for our little angel Danielle Kim Asis together with her dad, angel bro Dennis Asis as they embark on a return trip back to Manila from Boston after completion of clinical check-up at Boston Children's Hospital through the auspices of the Progeria Research Foundation in cooperation with Project Michelangelo Foundation. We have 4 live Progeria cases in the Philippines. Please join us in prayers to heaven for a long & fruitful life here on Earth. A blessed opportunity to be able to introduce angel Lia Kemnetz & our angels Angela Felde & Valerie Arias on video chat before they departed from Boston. God bless the children.
---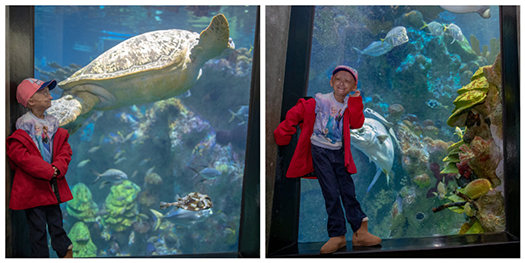 Danielle from the Philippines had fun at the Boston Aquarium this week in January 2019! Danielle, 12, enjoyed watching all the fish and turtles in the big tank. Kim as she likes to be called, completed her clinical trials for treatment of Progeria at Boston Children's Hospital with the auspices of the Progeria Research Foundation. Project Michelangelo Foundation is the official protectorate of children in the Philippines afflicted with Progeria.
---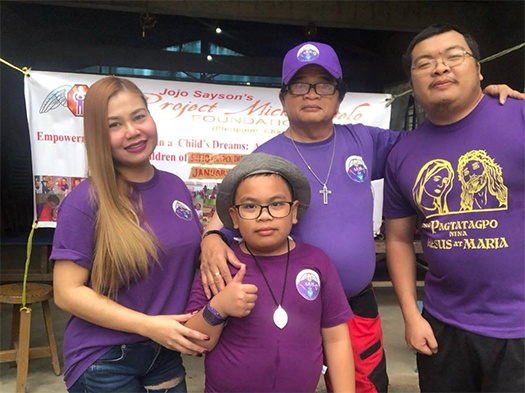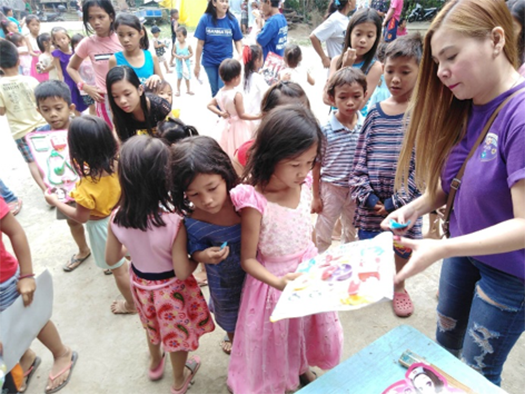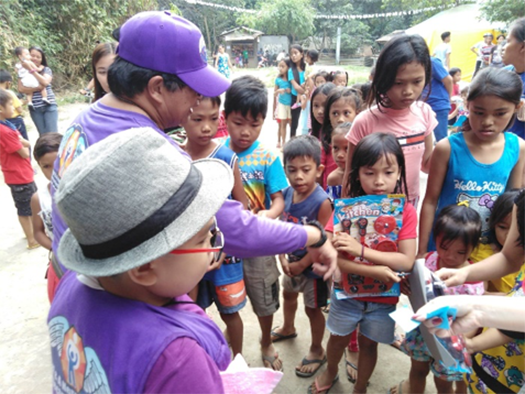 January 27, 2019: Our angel Enrico L. De Guzman aka the "Toyman" and his angel team embarked on another Toy Mission for the less privileged children of Sitio Ibayo, Dulongbayan, San Mateo, Rizal, Philippines. The angel team met up at 8 am and started moving by 9 am, to cross the makeshift river bridge in reaching the destitute children anticipating toys, food, empowerment and love from Project Michelangelo Foundation. Thank you to all our donors!

---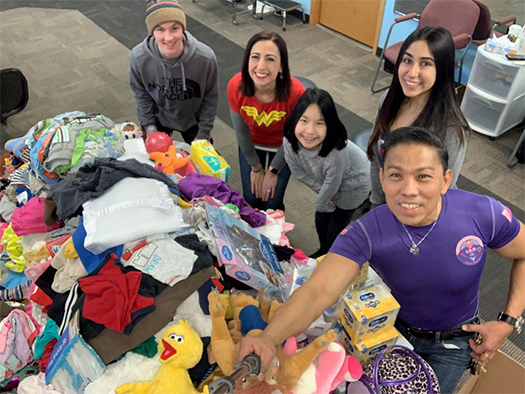 Jan. 27, 2019: Balikbayan Boxes filled with baby needs for Northern Samar island shipped! Thank you junior angel team leader Lia Kemnetz for a job well done! Thank you angels Valerie Arias, Angela Felde (especially with your additional cash donation!) and so many more people who help donate! Thanks Daniel Bennett, Sam Hassett (Toni Hassett) & so many more! God is good!

---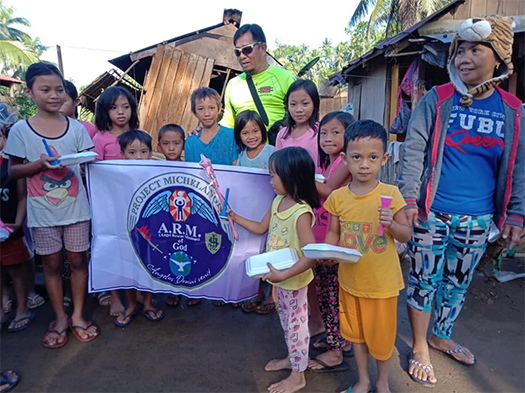 Jan. 19, 2019 newsfeed.
Thank you angel Doc Maria Sylvia Agudo Pacle & team for uplifting the children affected by the recent typhoon in Northern Samar, Visayas, Philippines. You keep the spirit of PMF alive! God bless you & keep you always safe!

---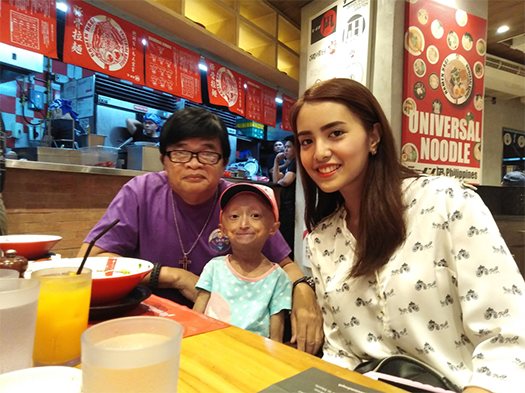 PMF Opening Mission for 2019- Setting a meet up between Danielle Kim Asis and Laura Mikaela Tan from Cabuyao Laguna, our upcoming Angel who was excited to meet Kim and be added on the list of our angels inspiring and protecting Kim. It became a meaningful event as it transpired in the presence of the whole Asis family and de Guzman family at one of the popular ramen house inside Trinoma Mall, Quezon City, on the last day of Christmas, January 6, 2019. -Enrico L. De Guzman, PMF Philippines Executive Director