Latest News, Continued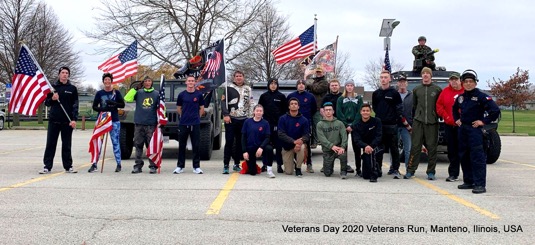 PMF joins the annual Manteno Veterans Run 2020
On Nov. 11, 2020, Manteno, Illinois, USA, Veterans Day, the Manteno Veterans Run continues the legacy of honoring & giving thanks to all those who served especially those who sacrificed their lives to protect the United States of America & protect freedom. This activity is also meant to instill inspire, & bequeath the patriotic spirit to children & young adults especially the Manteno Grade School, Middle School, & High School. With special thanks to Daniel Gerber USN, the Manteno American Legion Post 755, the local veterans, the Manteno Police, & the Manteno School District, this has become a yearly event. Jojo Sayson, Lieut. CDR of the Philippine Coast Guard Aux, 107th, & Founder of Project Michelangelo Foundation participates each year by escorting the Veterans with "Ground Force One" H2 Battlecruiser. May we teach our children the legacy & sacrifice of our nation's protectors & may we always place God before all we do so that we can bless God 1st before we implore God to bless America. The Manteno Veterans Run honors Raymond Joseph Olley QM2, Hero of the Battle of Leyte Gulf, Philippines 1944 as he has always been the highlight of this event riding in the H2 Battlecruiser escort until he faded away last July 4, 2020 at the ripe old age of 97. He was Jojo Sayson's best friend.
See the video link: Project Michelangelo: Manteno Veterans Run 2020 tribute to the defenders of Democracy. Thank you! - YouTube


---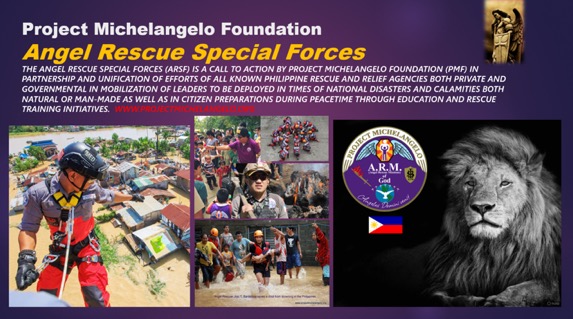 The New PMF Angel Rescue Special Forces
Nov. 27, 2020 PMF Newsfeed: Announcing a new PMF designation to our angel rescuers mobilized united during national disasters & calamities in the Philippines. Because of the bravery & ingenuity of some of our Project Michelangelo Foundation angels, heroes, & volunteers, PMF launches the new Angel Rescue Special Forces (ARSF) composed of PMF angel leaders & 1st responders nationwide in the Philippines as an official designation for these selfless living legends ready to respond to any natural or man-made disasters & calamities in coordination & cooperation with multiple rescue organizations.
I chose the Lion as its symbol as this represents leadership, courage, nobility, royalty, strength, stateliness and valor.
Salute - Jojo Sayson, President/Founder PMF

---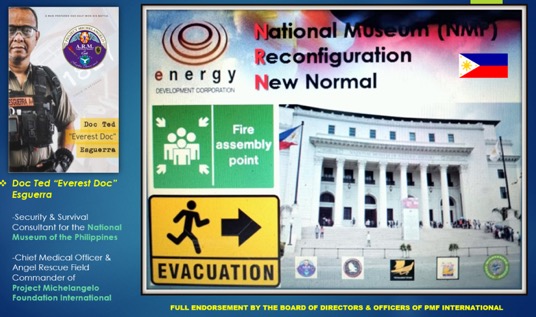 Doc Ted Esguerra & the National Museum of the Philippines
Nov. 25, 2020 PMF Newsfeed: Angel bro Doc Ted Esguerra was appointed as security consultant for the National Museum of the Philippines. Congratulations & thank you for proudly honoring your PMF family.
---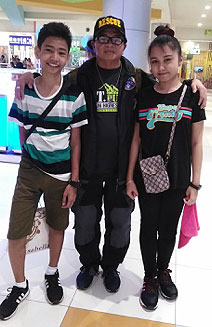 PMF students with Academic Honors in Bulacan, Philippines
Nov. 22, 2020 Newsfeed: PMF (Project Michelangelo Foundation) CARES- "So heartwarming to receive the news that our 2 PMF assisted High School students in Bulacan, Philippines are both # 1 in their respective classes, in Grade 9 and 10 respectively for the first quarter of the School Year 2020-2021. Special thanks to angel bro Enrico L. de Guzman for the guidance.

---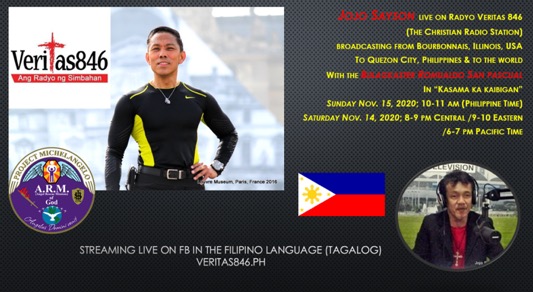 Jojo Sayson interview with angel bro Romualdo San Pascual on Radio Veritas
Nov. 15, 2020 PMF News: Jojo Sayson live interview via Zoom on Project Michelangelo Foundation & God's relevance in times of calamities on Radyo Veritas 846, The Christian Radio of the Philippines, with host Bro Romualdo Constantino San Pascual in Kasama Ka Kaibigan,
broadcast from 162 West Avenue corner EDSA, 1104 Quezon City, Philippines via Youtube Live, Nov. 15, 2020.
---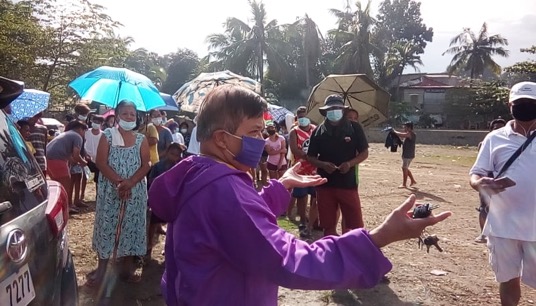 The Amazing Toyman helps Typhoon Ulysses flood victims despite being a flood victim himself
Nov. 14, 2020 PMF Newsfeed: The indomitable Amazing Toyman Enrico L. de Guzman. With the aftermath of the destructive Typhoon Ulysses, flooding was just about everywhere causing billions of pesos in damages. The house of angel bro Enrico was flooded destroying much of his personal belongings & important documents but nevertheless, it did not even dampen the fighting spirit & inspirational leadership of this man. He continued with his mission of helping the flood victims while he is also a flood victim but today he is the flood champion of the children.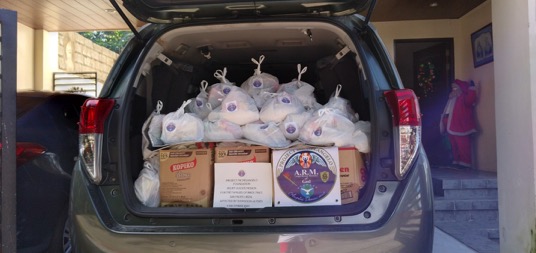 ---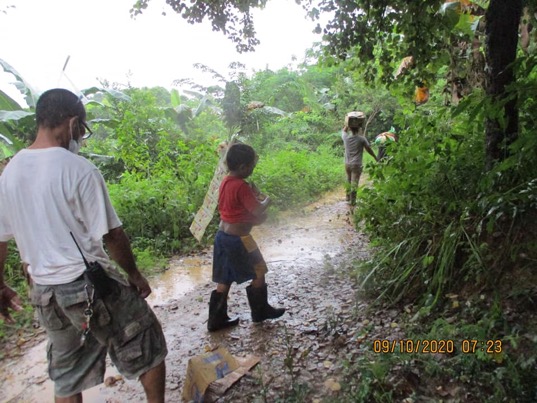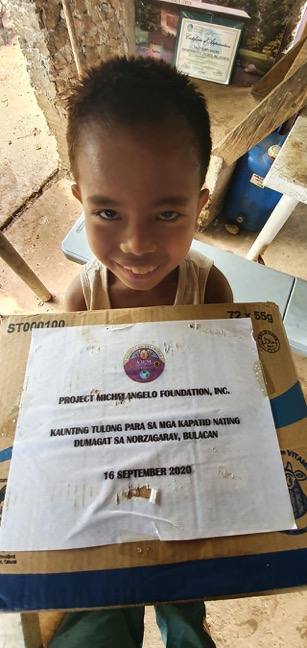 PMF helps the Dumagat Tribe with angel bro Martin Francisco
Nov. 6, 2020: PMF Newsfeed: Thank you for keeping the divine fire of PMF burning brightly in the Philippines angel bro Enrico L. de Guzman in arranging some logistical supplies transported to the Sierra Mountain Dumagat children under the auspices of angel bro Martin Francisco.

---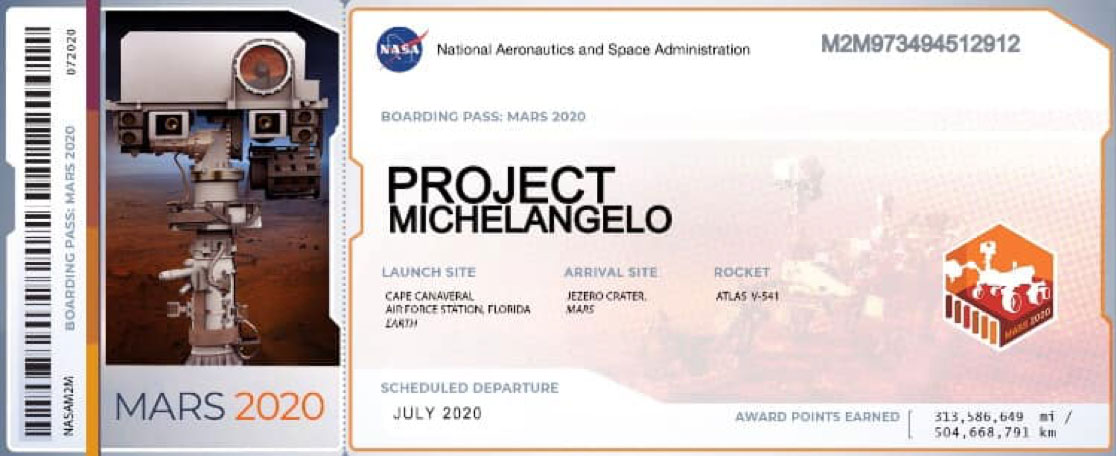 PMF Namesake in space & on its way to Mars
Nov. 4, 2020 PMF Newsfeed Mars, here we come: Project Michelangelo on its way to Mars!
Project Michelangelo Foundation (PMF) namesake etched on the Rover Perseverance mission to Mars flight status:
On July 30, 2020, Perseverance, nicknamed Percy, was launched at 7:50 a.m. EDT (11:50 UTC), and is scheduled to land on Mars on 18 February 2021. Etched on a microchip are names of countless Earthlings including the name "Project Michelangelo" representing our angels, heroes, volunteers, donors, & the children recipients of our missions including everyone else benefitting from the goodness we deliver for humanity & God's sake. Under the auspices of PMF are the Alliance of Superheroes (AOS) & Angel Rising Magazine (ARM) both represented as well.
This car-sized rover designed to explore the Jezero crater on Mars as part of NASA's Mars 2020 mission. It was manufactured by the Jet Propulsion Laboratory and expected to land on Mars on Feb. 18, 2021. You can view the telemetry of the spacecraft as it heads for Mars. Mars 2020 Perseverance Rover - NASA Mars
Mike Burns - Mars Expedition Coordinator
---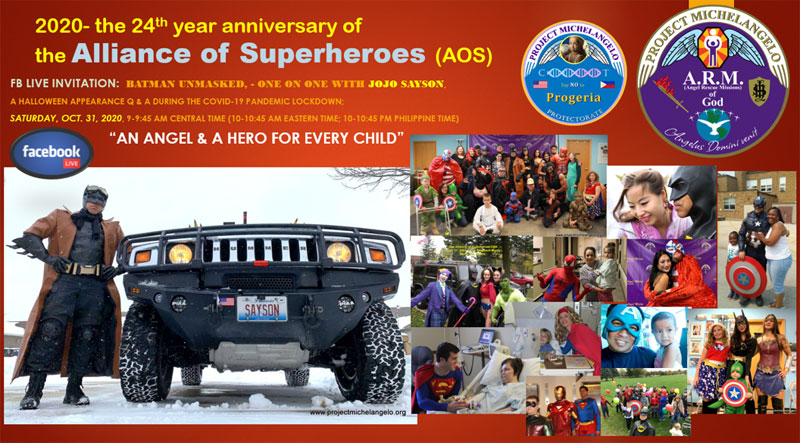 Oct. 31, 2020 PMF News: On this 24th year anniversary of the creation of the Alliance of Superheroes & in lieu of this year's COVID-19 cancellation of our Alliance of Superheroes (AOS) yearly hospital visits for sick children & get-together festivities with special needs & disabled kids with other superheroes of PMF, Jojo Sayson broadcast a FB Live event "Batman Unmasked" One on one with Jojo Sayson to tell the world about our history & development thru the years. AOS precede PMF & is on our 24th year. AOS is now PMF. God bless us all.
Watch the FB link: https://www.facebook.com/jojo.sayson/videos/10157847100767684
---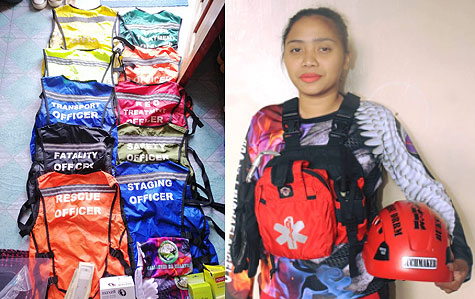 A Thanksgiving message from angel Muffit Docdocil of the Northern Mindanao Angel Rescue Team
Oct. 29, 2020 PMF Newsfeed: Despite the global health crisis, Project Michelangelo Foundation, Northern Mindanao never fails to give its perpetual provision to its constituents. Apo Macote National High School is very much grateful for the support during this time of the pandemic. May God always bless dispense his endless blessings to the PMF family, especially to Dr. Jojo Sayson and the International Board of Directors.
Mabuhay po tayong lahat! Stay safe! -- angel Muffit Docdocil aka Code Blue, Angel Rapid Rescue Team (ARRT)