Latest News, Continued
---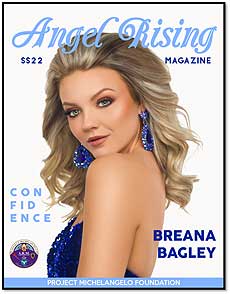 Our long awaited 2022 Spring/Summer edition is here!
Join us work together in empowering women worldwide by sharing our newest ARM issue! Invite readers to come visit our site & be moved by our new theme "Confidence." Let them know about our most inspiring stories from amazing women from all over the world, browse through the creative writing pieces of women from all walks of life, learn new cultural recipes, be moved by innovative artwork submissions, & see what's going on with the angels of Project Michelangelo Foundation worldwide! Announce to all that this empowerment magazine is brought to you free of any costs as a humanitarian & empowerment initiative of Project Michelangelo Foundation in "empowering women to change the world." www.angelrisingmag.com
Angel Rising Magazine cover girl for the Spring-Summer 2022 issue is none other than Breana Kay Bagley. Read about this upcoming Disability Lawyer & Pageant Titleholder shooting for the stars in the Miss America Pageant.
Theme: Confidence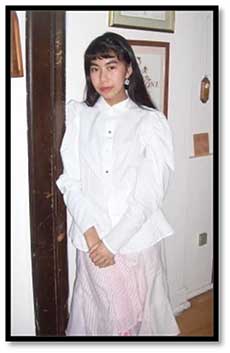 In each and every one of us, there are gardens of confidence. But it is up to us how we reconnect with these inner worlds, what we pay attention to, and how we take care of them. If we nurture ourselves, we are able to grow, and then confidence follows. But genuine confidence isn't about feeling superior to others—it is the quiet inner knowledge that you are capable, and this can be found once you learn how to trust yourself. Share with us how you have brought your power back on your own, in times of healing. How have you been able to revisit your confidence with ease and grace? How have you learned to nurture this garden?

Jade Sayson
Editor-in-Chief
---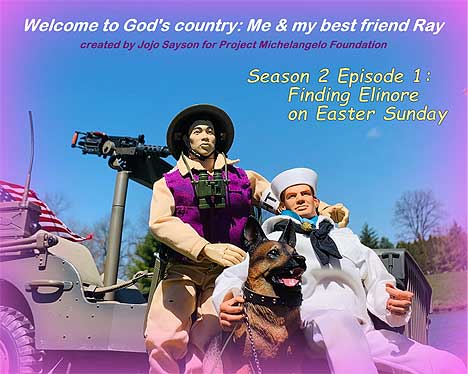 April 17, 2022 PMF Newsfeed: Happy Easter to all.
Project Michelangelo Foundation's Toy Story empowerment & educational mission "Welcome to God's country: Me & my best friend Ray" has now continued today with Season 2 Episode 1, Finding Elinore. "Welcome to God's country: Me & my best friend Ray" is an empowerment & educational toy story that uses 1/6 scale G.I Joe action figures & dolls created by Jojo Sayson for Project Michelangelo Foundation. This mission is meant to teach history at the same time, entertain the viewer with dialogues that can be heard only by the power of a child's imagination. www.projectmichelangelo.org. This promotion is now linked to the Ray Olley Memorial Project to honor Veterans & Servicemembers, provide awareness on PTSD-related suicide, provide awareness against animal cruelty, & teach the children to leave a legacy of knowledge to military history as well as the ideals of democracy, love of country, for God, duty, & honor. Please visit www.rayolleymemorial.com & please consider to make a donation.
Here is the link. We have 20 episodes in 2021 & I anticipate another 20 episodes for 2022. God bless us all.
Keep the stories alive for the children - Jojo Sayson
---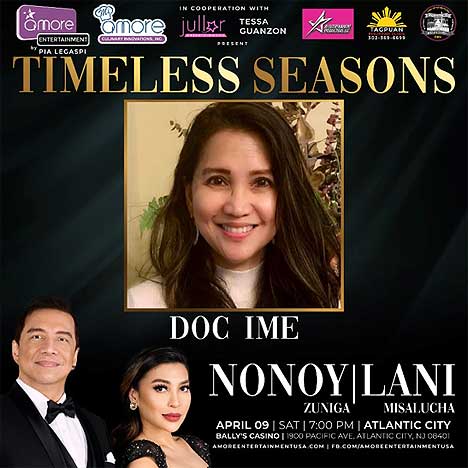 April 14, 2022 PMF Newsfeed: Congrats to our PMF angel VP Doc Ime Cruz for a successful concert last April 9, 2022 with Filipino singing legends Nonoy Zuñiga, Lani Misalucha at Bally's Hotel in Atlantic City, NJ, USA. Angel VP Doc Ime is not only an accomplished medical professional as a physician but her passion is music. She has written original songs about inspired by her patients with challenging medical conditions (like Cancer, Alzheimer's Disease, Progeria, Lubag syndrome, chronic Kidney Disease, Autism, & Blindness) as well as a number of ballads & love songs of various genres. She writes lyrics in both English and Filipino with some Spanish. You can follow Doc Ime on her YouTube channel "Doc Ime Cruz" with a compilation of more than 50 videos of original and cover songs. Angel Rising Magazine is very proud of our angel VP Doc Ime!
---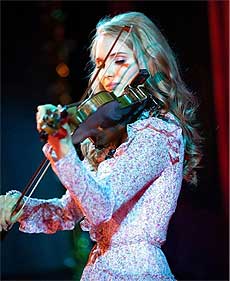 April 7, 2022 PMF Newsfeed: Congratulations to PMF International Ambassador angel Annika Bennion for becoming a member of the National Youth Orchestra 2022! She will be presenting & showcasing her brilliant violin skills at Carnegie Hall and across Europe this summer.
---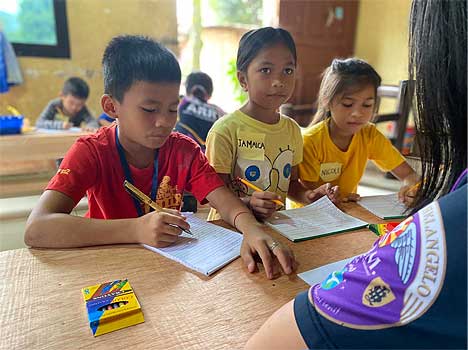 April 5, 2022 PMF Newsfeed repost: Project Michelangelo Foundation (PMF) shout-out "Thank you" & blessings to our donors & angel volunteers on our Literacy Mission: "Karosa dala Pagbabasa" or "Cart of Literacy." Day 3. Project Michelangelo Foundation's literacy mission "Karosa dala Pagbabasa" translates to a "Cart of Literacy" is on Day 3 headed by our angel team leader "Nanay" Mary Jean Paraiso & our dedicated angel teacher volunteers. This video highlights the warm response shown in the faces of these little "Children Farmers," children who could not go to school because of the unavoidable demands of their families to help in farming the fields because of a subsistence in their economic condition.
The children will grow up illiterate & will forever be handicapped to better themselves & their families. Our PMF family in Malaybalay, Bukidnon took academic arms & created this mission to save the children from social & economic isolation when they mature. See the faces of these children light up & watch them reveal their humanity to become who they are, seekers of knowledge, wisdom, & guidance. Thank you to all who have donated & volunteered.
Please take a quick peek at the children's faces & click below.
God bless, protect, & nurture the children - Jojo Sayson, President/Founder PMF
Here is our Youtube link: Project Michelangelo: Day 3 Literacy Mission, seeing the faces of the Children Farmers of Bukidnon. - YouTube
---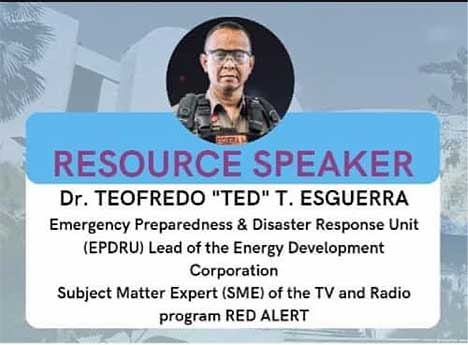 April 5, 2022 PMF Newsfeed: Congratulations angel Doc Ted Everest Doc Esguerra for another successful mission in relaying life-saving rescue information as a specialist in Disaster Resiliency education & public awareness. We are very proud of you.
---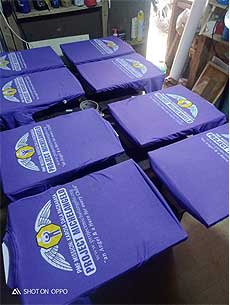 March 29. 2022 PMF Newsfeed: New PMF purple school uniforms being printed for our children farmers to wear in the mountains for when our next trip to the mountains of Malaybalay is followed through on its next class. For those who were unable to see the intro of this mission, our angel Nanay Mary Jean Paraiso is team leader for mission "Karosa dala Pagbabasa" translated as the "cart bearing reading skills," a mission of mercy to bring the school to the children in the mountains who do not have access to a school & cannot go otherwise because they have to work in the fields to make a living.
Our PMF family is making a difference in the world, one child at a time. Special thanks to angel Chelise Slowik for providing the uniforms & misc. logistics including meals for the children & our volunteer angels making the 2 hour trip through the mountains.
---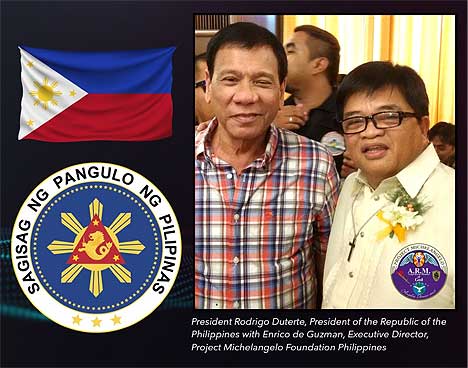 March. 28, 2022 PMF Newsfeed: PMF through our Philippine Executive Director Enrico L. de Guzman, greets Philippine President Rodrigo Duterte, a Happy Birthday. God bless us all.
---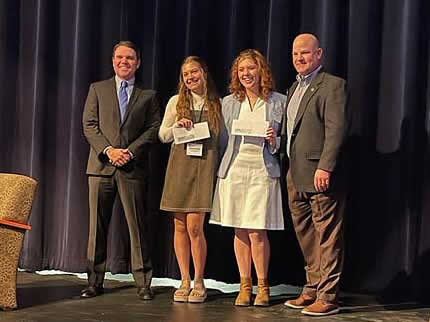 March 25, 2022 PMF Newsfeed: Congrats to our angel Samantha Hasset, daughter of angel Toni Hasset for this Scholarship award from the State of Texas. Angel Sam was the 1st Angel Team Leader for the 1st Hug-a-Baby Mission for Samar for Angel doc Maria Sylvia Agudo Pacle. Repost below:
Samantha was awarded $1,000.00 Public Service scholarship @ the Texas Legislative Conference today for her work in the community and her pursuit in becoming an educator. So proud of her.
---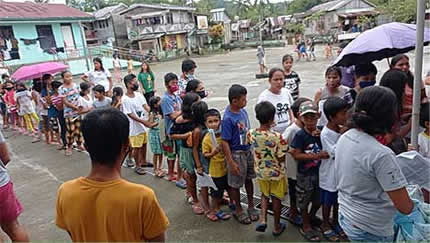 March 25, 2022 PMF Newsfeed: Angel Doc Sylvia Agudo Pacle, PMF Team Leader for humanitarian & medical missions for the poor children of Catubig, Northern Samar, Philippines, thanks Project Michelangelo Foundation for supplying lollipops & loot bags, & ice cream for kids to comfort them during their recent COVID-19 vaccination.
---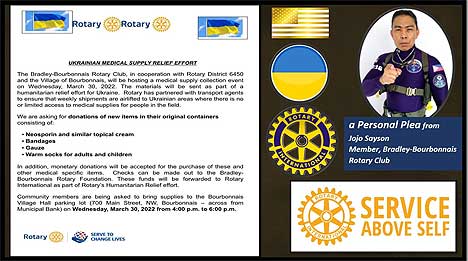 March 25, 2022 PMF Newsfeed: PMF endorses a humanitarian initiative through the Rotary Club International. See my repost below fyi:
March 25, 2022: A personal plea for humanitarian assistance for the Ukrainian people through the Rotary Club International.
Dear residents in the Chicago area close by or around the Kankakee County region of Illinois, USA,
War is hell. With all the political indifference in the world especially between countries with armaments to destroy each other, there are always casualties, civilians who are in the crossfire of deadly conflict and those who try valiantly to defend their homeland. Through my Rotary Club family, we are asking for some supplies for donation & drop of only for one day on March 30, 2022, Wednesday from 4-6 pm at the Bourbonnais Village Parking lot. Please bring (in its original package): Neosporin, gauze, bandages, warm socks for children & adults. No other items please, just those listed.
Checks can be made to: Bradley Bourbonnais Rotary Foundation & dropped off at the same location.
God bless us all, please pray for world peace - Jojo Sayson
---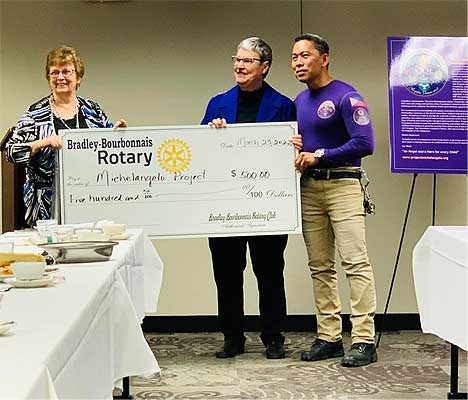 March 23, 2022 PMF Newsfeed: Thank you to the Bradley-Bourbonnais Rotary club for donating $500 to our missions after my guesting at their club meeting today at the Quality Inn, Bradley, Illinois, USA.
---
March 20, 2022: Project Michelangelo Foundation - Guardians Central Mindanao, "MISSION: R.E.A.C.H"
PMF Volunteers provided assistance as "standby medics" to the recently concluded FUN RUN organized by "ADHIKA", here in Cotabato City, Central Mindanao, Philippines.
Special thank you to our volunteers: Gerlie Bosque, Mocsit Abdul Dimasangkay, Michael S. Abdul, Datu Hasrylle F. Sinsuat, & Datu Hasaad S. Sinsuat.
---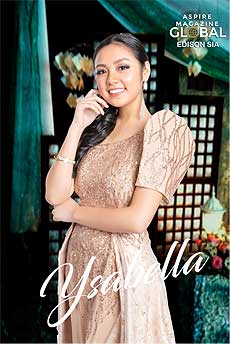 March 18, 2022 PMF Newsfeed: Our angel Ysabella Alberto travels from New Jersey to Manila, Philippines to model for Aspire Magazine Global! Angel Ysabella is the daughter of Project Michelangelo Foundation angel Janette Doria of New Jersey, USA.
---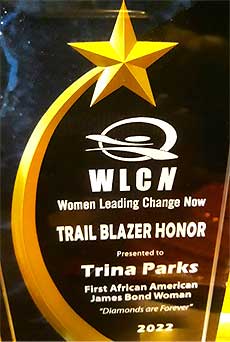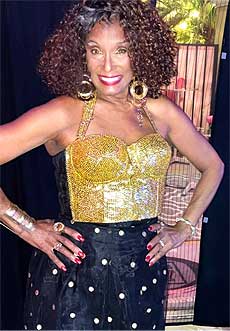 March 16, 2022 PMF Newsfeed: The amazing angel Trina Parks, our Hollywood celebrity family keeps on travelling to events across the USA & continuously receiving unending accolades. In one of her trips, Ms. Parks flew to LA, along with her co-stars Jeanie Bell, Jayne Kennedy & Rosanne Katon. She starred in the film "The Muthers" which was shown again & the film location was the Philippines, in 1975. This film was screened, at Quinton Tarantino's theater, in Beverly Hills, California for the first time in the USA, with an audience. Watch out for this dynamic Black Bond girl who co-starred with the late Sir Sean Connery in the 1971 James Bond saga "Diamonds are Forever."
---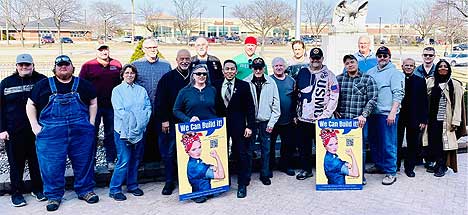 March 15 PMF Newsfeed: The Ray Olley Memorial Project 2022, is a PMF extension of our community to worldwide reach presented to the Board of Trustees & Mayor Paul Schore of Bourbonnais, Illinois, USA.
PMF partners with American citizens, patriots, & veterans to build a WWII Memorial featuring Ray Olley (1923-2020) WWII veteran who was a staunch ally of PMF missions for the children, & his dog & best friend Elinore who was lost at sea after the Battle of Leyte Gulf, 1944, the Liberation of the Philippines.
---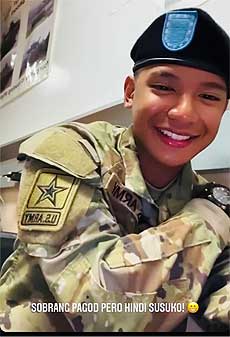 Feb. 22, 2022 PMF Newsfeed: Congratulations to silent partner angel bro Khalili Esguerra, US Army Basic Training graduate in Houston, Texas!
To angel bro Ted Everest Doc Esguerra, congratulations, like father, like son. You have inspired him.... he is you.
Godspeed to all - Jojo Sayson