Latest News
Dear world,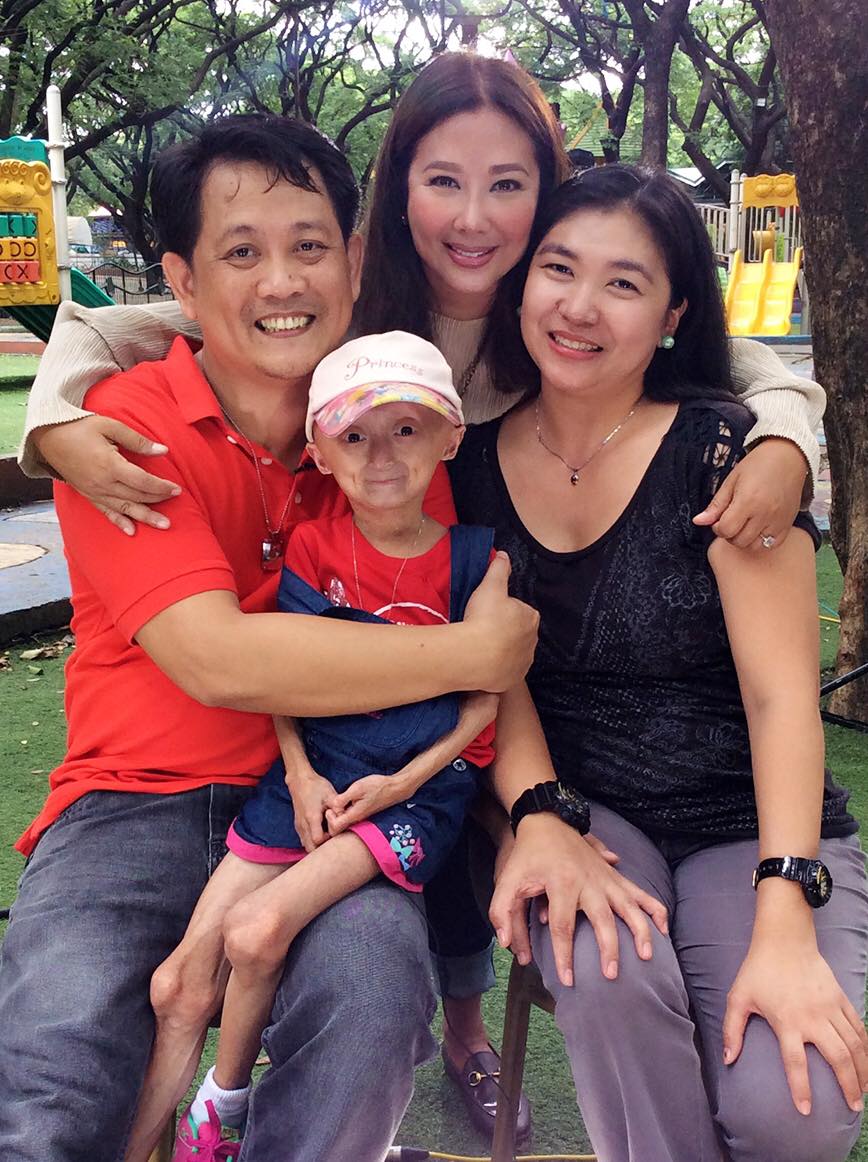 Our tiny angel Kim Asis has been featured on TV by ABS-CBN, The Filipino Channel with a feature interview by TV host Korina Sanchez on Rated K show with bilateral permission & approval from her parents & Project Michelangelo Foundation in the hopes of creating awareness on Progeria or the advanced aging condition for children as well as our on-going search for other children with the same condition primarily in the Philippines. We are partnered with the Progeria...Research Foundation under the auspices of Dr. Leslie Gordon at Boston Children's Hospital in assisting to give a chance for these children to receive clinical trials of new drugs in the hopes of prolonging the life of these young ones & ultimately lead to a cure. PMF is also partnered with No Thanks Needed through Thomas Quigley for transport & misc. assistance when our Progeria children fly to the USA. For inquiries regarding Progeria in the Philippines, please contact through Facebook, our PMF Exec. Director & Progeria Liaison Enrico L. de Guzman & for medical inquiries, our PMF Angel Medical Team through our PMF VP Doc Ime Cruz. God bless us all. You may also email us through info@projectmichelangelo.org. God bless the children. Hugs to all. - Jojo Sayson, President/Founder PMF
Click the link below to view Kim's interview:
http://news.abs-cbn.com/video/life/08/28/16/how-progeria-stricken-girl-battles-condition
---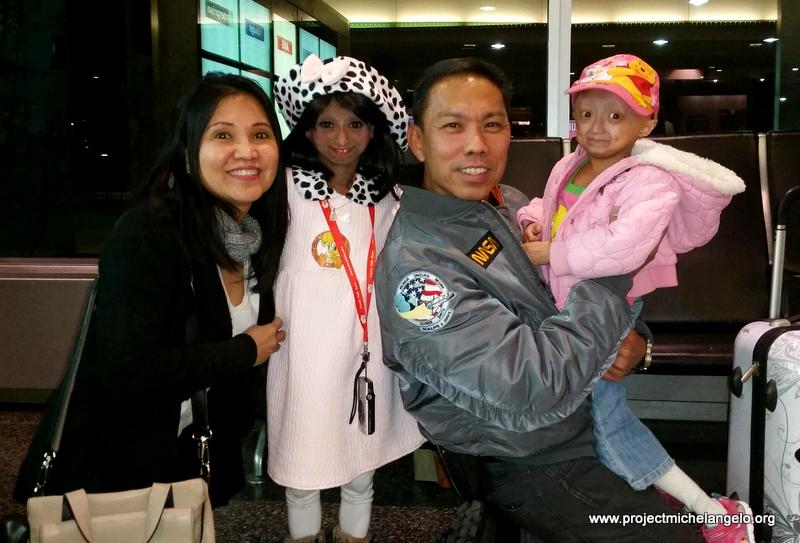 Here is a look into the adventures of Kim & Rochelle in the arms of Project Michelangelo Foundation with PMF Vice President Dr. Imelda Cruz Banting and PMF President Dr. Jojo Sayson carrying Kim Asis at Boston Logan International Airport in Boston, Massachusetts in December 2014.
R.I.P. our dear angel Rochelle (1997-2016).
https://www.youtube.com/watch?v=vRbKE-ZkKL8&feature=youtu.be
---
Project Michelangelo President Jojo Sayson and McKenna Leitschuck, Miss Nebraska 2015/Angel Rising Magazine International PRO visit the Philippines

Project Michelangelo travels from the USA to the Philippines for a 2 week mission from Metro-Manila, Luzon to Malaybalay, Bukidnon, Northern Mindanao from July 15- 30, 2016.
McKenna Leitschuck and her mom Lisa Leitschuck travelled out of the USA for the 1st time to join our Philippines team in humanitarian missions for children with various illnesses and disabilities and orphans as well as meeting with various reporters from TV and radio through a press conference. Angel Rising magazine was also promoted in the agenda but most of all to spread a sense of camaraderie between angel members and volunteers of PMF Philippines. The 1st batch of PMF Presidential Awards/Angel Medals of Honor were also presented by Dr. Jojo Sayson for dedication and humanitarian services above and beyond the call of duty to serving the Lord.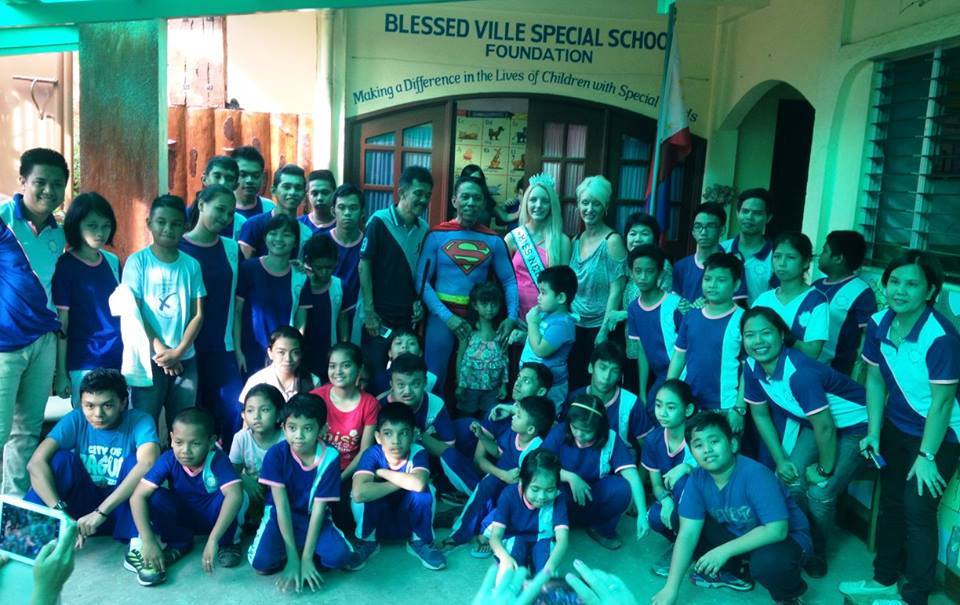 The PMF Team at Blessed Ville Special School Foundation for special needs and children with physical and learning disabilities last July 28, 2016.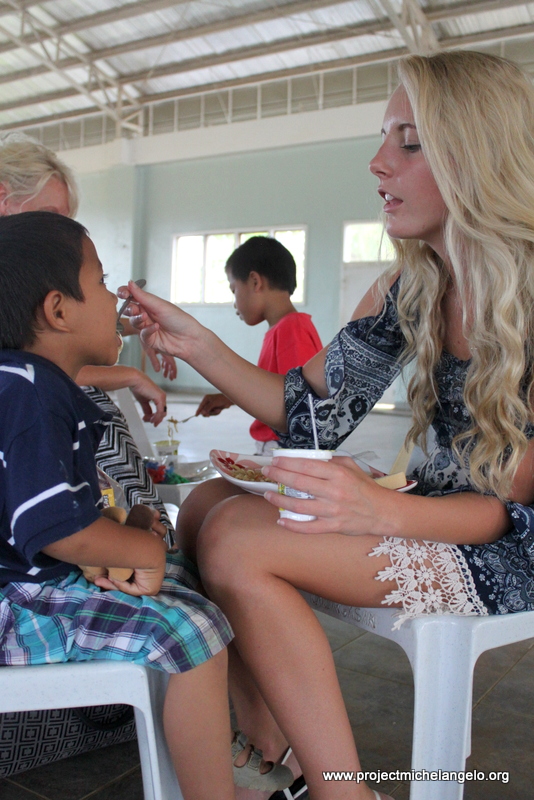 Angel McKenna feeds an orphan at Mt. Moriah Orphanage in Bukdinon last July 26, 2016.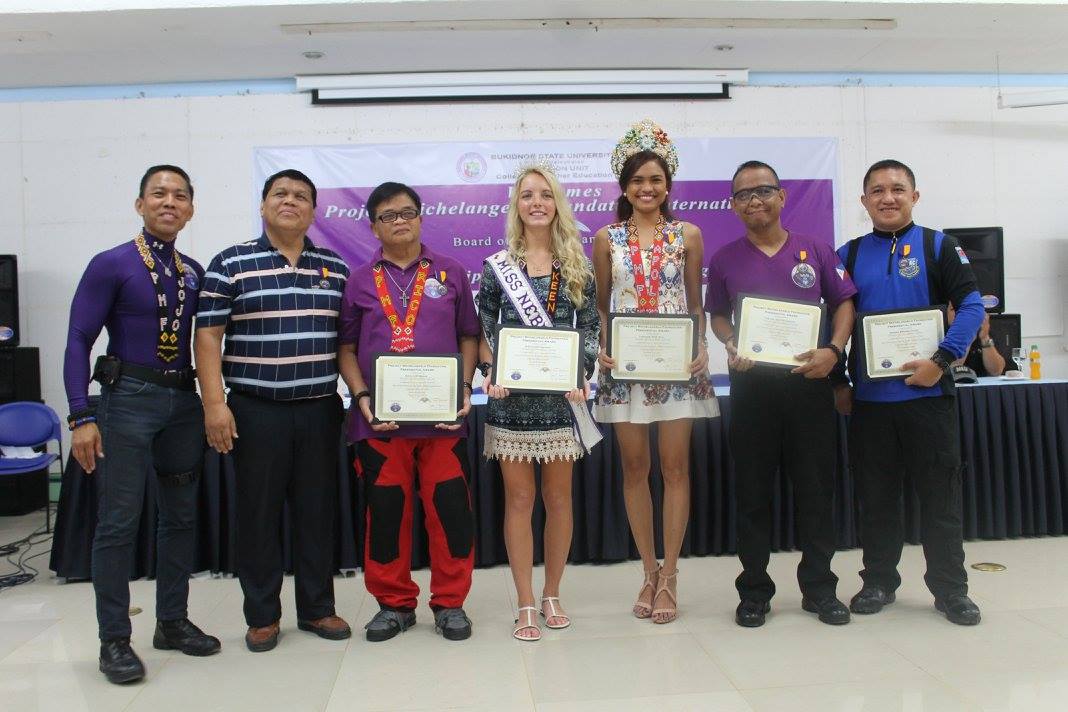 Project Michelangelo Foundation International and Bukidnon State University Memorandum of Agreement signatories last July 26, 2016. (From left to right) Dr. Jojo Sayson, PMF President/Founder, Dr. Oscar Cabañelez. BSU President, Enrico L. de Guzman, PMF Exec. Director, McKenna Leitschuck, Miss Nebraska 2015, Apol Mora, Ms. Beautiful Planet 2016, Doc. Ted "Everest" Esguerra, PMF Chief Medical Officer/Rescue Field Commander, and Rhondell M. Paraiso, PMF-BSU Liaison/Rescue Commander. All of the signatories also received the 1st ever PMF Presidential
Award/Angel Medal of Honor for exemplary volunteerism above and beyond the call of duty.

Doc Ted "Everest" Esguerra and Dr. Jojo Sayson with our PMF rescue volunteers at Bukidnon State University in Malaybalay, Northern Mindanao.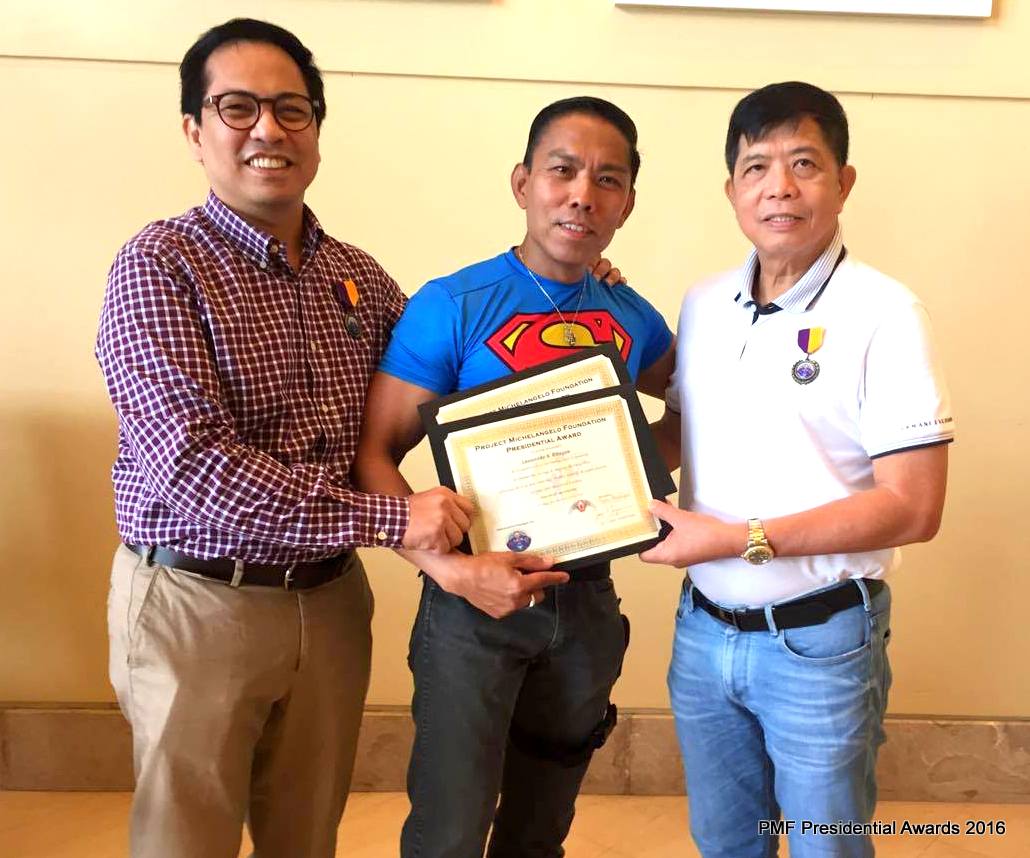 Mr. Leo Riingen, CEO, Informatics College (left) and Dr. Eulalio "Doc Ayong" Lorenzo, President/General Manager, Excellence Poultry & Livestock Specialists Inc. (right) receive the PMF Presidential Awards last July 29, 2016 in San Mateo, Rizal Philippines.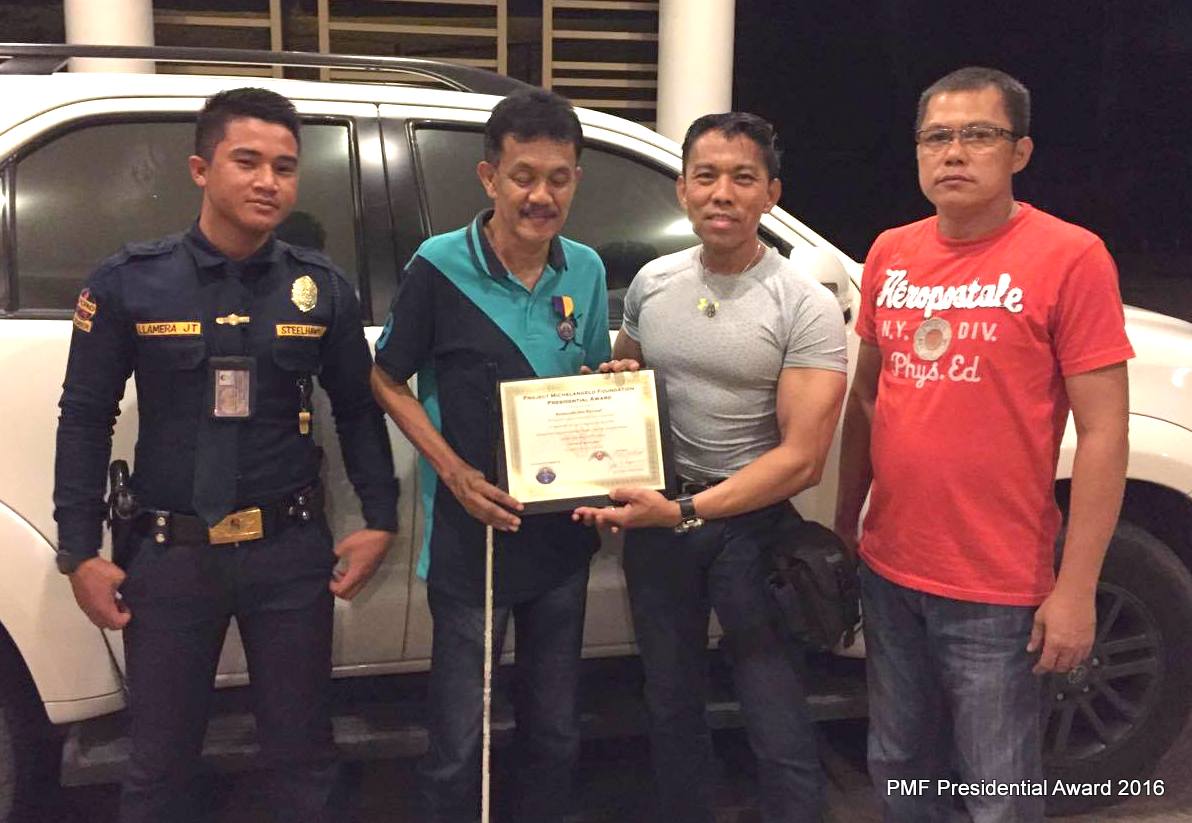 Romualdo San Pascual, PMF Missions Coordinator (center) receives his PMF Presidential Award/Angel Medal of Honor last July 28, 2016 in San Mateo, Rizal, Philippines.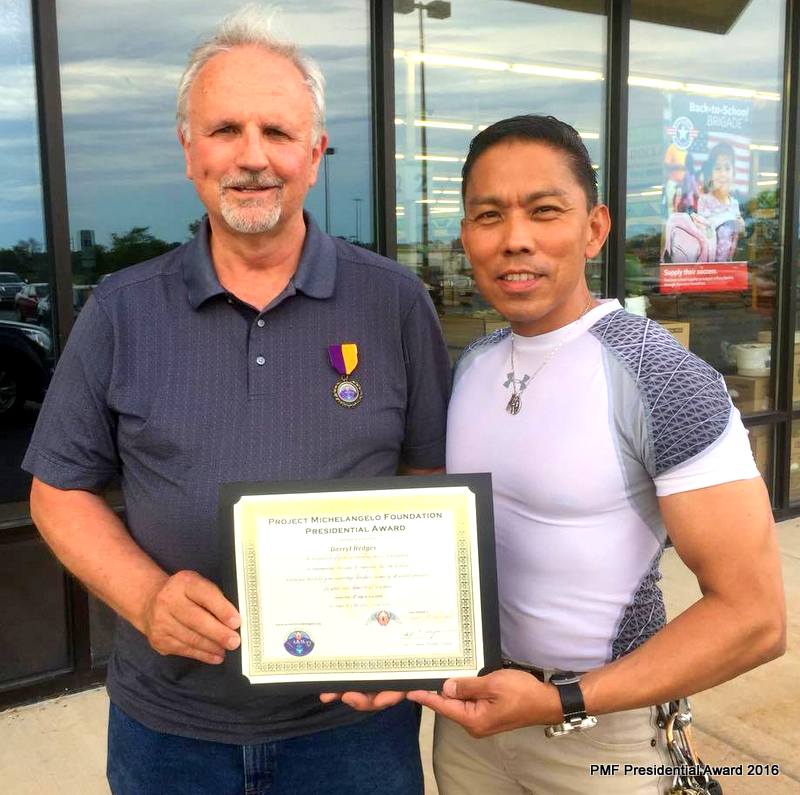 Darryl Hedges, President of High Altitude Balloon Adventures receives the 1st PMF Presidential Award/Angel Medal of Honor for supervising our successful PMF Space Mission in cooperation with the S.T.E.M. (Science, Technology, Engineering, & Mathematics) initiatives of the NASA IVD Team for the International Space Station.
View the launch: https://www.youtube.com/watch?v=7GcY1V8Mfd0
---
About the Foundation
Project Michelangelo is an independent and private organization established in 2011 and conceived from human elements of compassion and hope mobilized into angelic-like response for humanity through educational endowment for needy but deserving children and young adults, assistance to children with cancer and life-threatening diseases, helping grant a wish for a terminally-ill child, and partnership with rescue organizations in times of calamities and disasters.
The name Michelangelo means "messenger who resembles God" and is the image and essence of the foundation's mission in delivering hope and watching over to empower the children of the world and their appointed guardians. Our commitment to accountability and unique innovations will lead us into the heart of communities anywhere on the planet where these children belong through collaborative means. We believe in hope to change the world into a better place to live in through education and setting of a moral code through passionate belief in the Almighty in the hope of finding and nurturing the next generation world leaders.
Project Michelangelo revolves around the belief that teaching a paradigm shift in the minds of children from helpless to powerful can help them achieve any dream in life they can ever imagine. This Foundation is based in Illinois, USA and currently collaborates with the Republic of the Philippines.
---


---

Project Michelangelo Foundation
---
Project Michelangelo Foundation is registered under both The Charitable Trust and The Solicitation for Charity Acts CO# 01068679 issued by the Office of the Attorney General of the State of Illinois, 03/06/15
"Each one must give as he has decided in his heart, not reluctantly or under compulsion, for God loves a cheerful giver"
-2 Corinthians 9:7
Meet Rochelle, and learn about her life with progeria.
Meet our International Board of Directors
Along with Project Michelangelo founder Jojo Sayson, this humanitarian team is dedicated to grant wishes worldwide.
---
Mission Statement
To ignite the fire of compassion in the human heart, to give hope and inspiration, and to take action in helping empower the children of the world and its appointed guardians.
Motto
An Angel and a Hero for every child.
---