Latest News
July 2017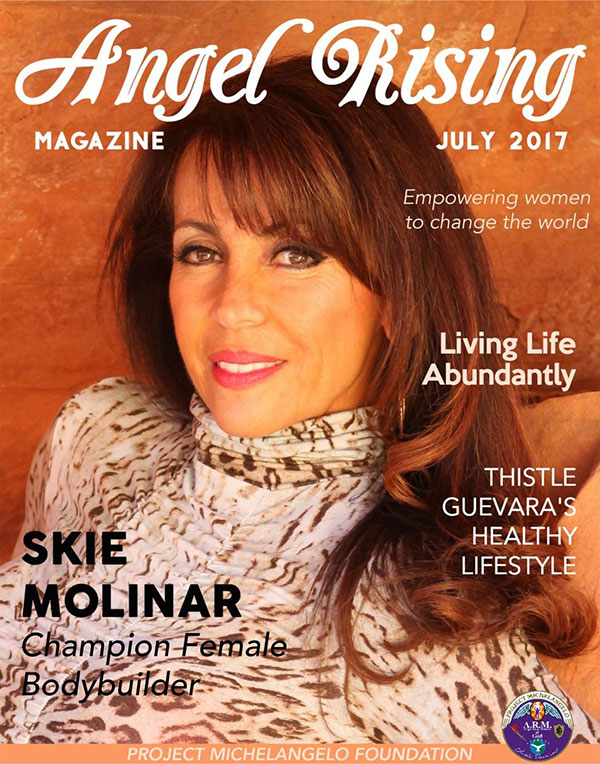 It with our recurrent pride to herald loudly that the newest July-Summer 2017 issue of Angel Rising Magazine is now hot off the press & ready for reading at no cost. Our mission is to empower women to change the world. Please share with your friends & family the amazing & heartfelt articles written by our all-female editorial staff from around the world. God bless us all.
Jojo Sayson, Publisher, ARM.
A message from Jade Islan Sayson, ARM Editor-in-Chief:
July 1, 2017
"Hello angel risers! While July may typically be considered the peak of summer, the previous months have held some pivotal times of both endings and new beginnings. In this issue, take a look as a few of our contributing writers reflect on this past school year, taking deep breaths before delving into the next. Each story has its own unique venture but proves that with a little positivity and keeping on, you'll always conquer the tricky waters in the end. Because once you've found your passion, no one else can stop it from rising above the surface except for—you guessed it—you! The forecast is calling for warm days and a sunny frame of mind, so go out there and take advantage of it all before it's too late!"
Jade Sayson
Editor in Chief
http://www.angelrisingmag.com/current-issue
---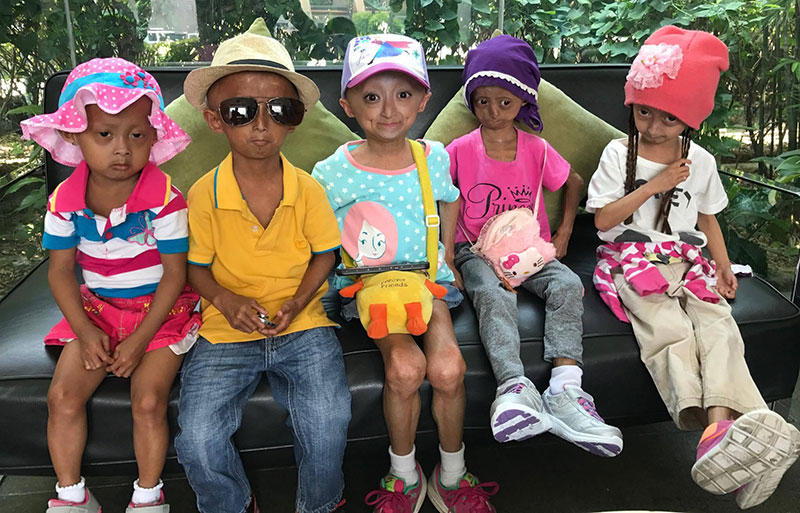 The 1st Progeria Assembly a success!
Philippine History in the making:
On June 24-25, the 5 known cases of children with Progeria or Hutchinson Gilford Progeria Syndrome (HGPS) in the Philippines were gathered together in Manila, Philippines. This Progeria Assembly was the 1st in Philippine history to include a meeting for the 1st time, all the parents & their children with this advanced aging genetic condition. This endeavor was a mission of hope to live life the fullest & just to experience just being children for a change from a life of scrutiny & sometimes indifference from the public eye. Our gathering to include the angels, heroes, & donors of Project Michelangelo Foundation International not only reached a milestone in Philippine medical history but composure of ever growing hope through a partnership with the Progeria Research Foundation & Boston Children's Hospital in assisting these Filipino children in accessing drugs for clinical trials to prolong these children's lives.
Here is a special thank you video message from Dr. Jojo Sayson, President of PMF: https://www.youtube.com/watch?v=SkUS5QTAoZE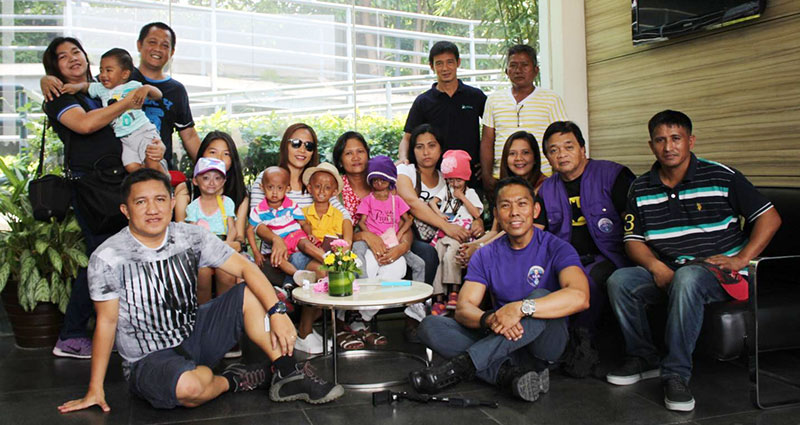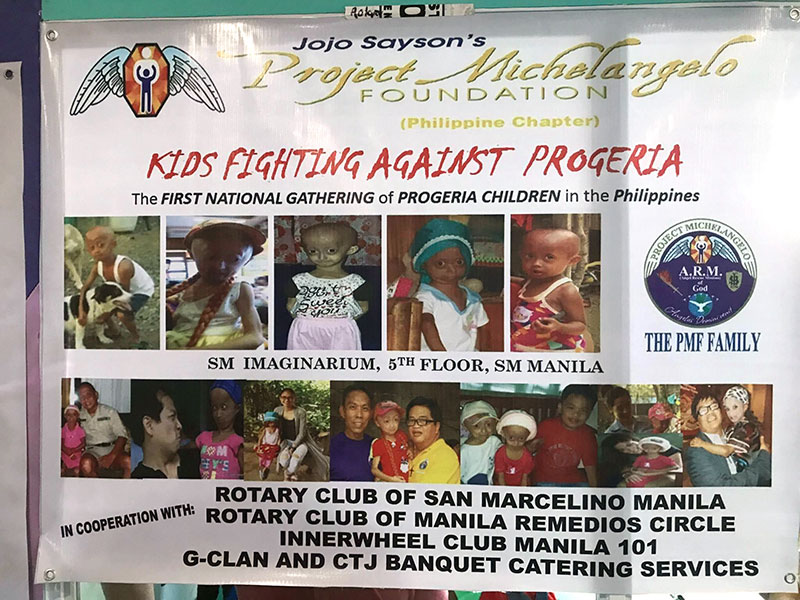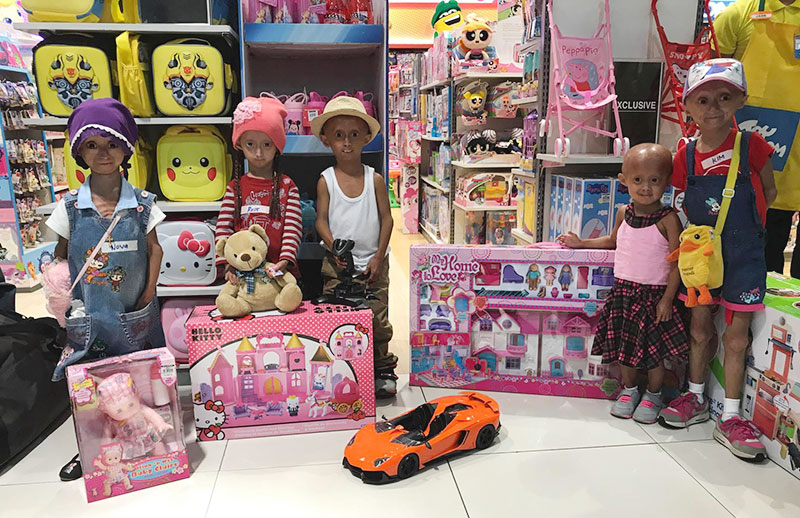 ---
---
About the Foundation
Project Michelangelo is an independent and private organization established in 2011 and conceived from human elements of compassion and hope mobilized into angelic-like response for humanity through educational endowment for needy but deserving children and young adults, assistance to children with cancer and life-threatening diseases, helping grant a wish for a terminally-ill child, and partnership with rescue organizations in times of calamities and disasters.
The name Michelangelo means "messenger who resembles God" and is the image and essence of the foundation's mission in delivering hope and watching over to empower the children of the world and their appointed guardians. Our commitment to accountability and unique innovations will lead us into the heart of communities anywhere on the planet where these children belong through collaborative means. We believe in hope to change the world into a better place to live in through education and setting of a moral code through passionate belief in the Almighty in the hope of finding and nurturing the next generation world leaders.
Project Michelangelo revolves around the belief that teaching a paradigm shift in the minds of children from helpless to powerful can help them achieve any dream in life they can ever imagine. This Foundation is based in Illinois, USA and currently collaborates with the Republic of the Philippines.


Please donate to our
Project Michelangelo 2017 Budget
---


---

Project Michelangelo Foundation
---
Project Michelangelo Foundation is registered under both The Charitable Trust and The Solicitation for Charity Acts CO# 01068679 issued by the Office of the Attorney General of the State of Illinois, 03/06/15
"Each one must give as he has decided in his heart, not reluctantly or under compulsion, for God loves a cheerful giver"
-2 Corinthians 9:7
Meet Rochelle, and learn about her life with progeria.
Meet our International Board of Directors
Along with Project Michelangelo founder Jojo Sayson, this humanitarian team is dedicated to grant wishes worldwide.
---
Mission Statement
To ignite the fire of compassion in the human heart, to give hope and inspiration, and to take action in helping empower the children of the world and its appointed guardians.
Motto
An Angel and a Hero for every child.
---