Latest News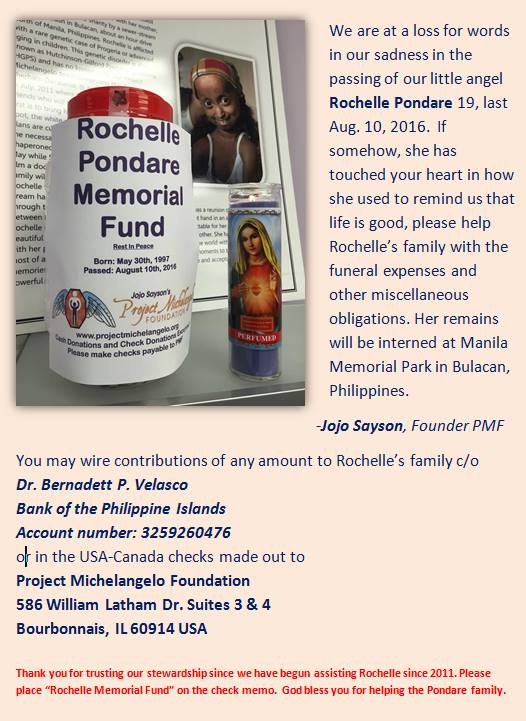 Hear Rochelle sing for the last time at Boston Children's Hospital. R.I.P dear Rochelle, may the Lord Jesus Christ restore you whole again. - with love from your PMF family


---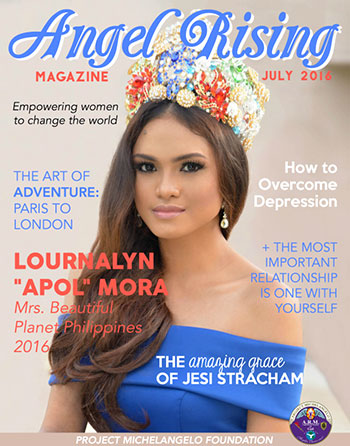 Angel Rising Magazine celebrates its one year anniversary! Last July 1, 2015 we launched our 1st humanitarian magazine we christened "Angel Rising Magazine." We scrambled an editorial team who were willing to take on this vision of creating a free on-line resource to empower women all over the world and we took a big leap to creating this publication. Time flies but the passion and blessings have been always palpable within the constant stream of articles submitted from past and present all-female authors affirmed the fact that there must be calling to publish this magazine and so we did and now it is one year old! The promise of worldwide readership and sharing of original articles, recipes, prose, and poetry prove once more that we are here to stay.
This 1st anniversary celebration, we present you with our July/Summer 2016 issue in the themes of single motherhood, travel, and overcoming difficult challenges. On the cover is single mom beauty queen Lournalyn "Apol" Mora, Mrs. Queen of the Beautiful Planet, Philippines together with a poignant interview by Sheilla Habab and a very inspiring story of faith and redemption about Jesi Stracham, Miss North Carolina Wheelchair 2016 written by McKenna Leitschuck, our Angel Rising Magazine International Public Relations Officer and titleholder as Miss Nebraska International 2015. Read up on many more heartfelt stories of amazing blessings and thoughts on how to overcome depression and living life with gratitude through travels and so much more.
A very special thanks to our Editor-in Chief Miss Jade I. Sayson for constantly developing the layout and design of our magazine and for creating all our beautiful covers with cover girls Ashley Hatfield, Miss Illinois 2007 and Executive Director of the Miss Illinois Organization for the Miss America Organization, Jen Groover, celebrity motivational speaker and genius entrepreneur from New York, Maya Elhala Levavi, one of Israel's 50 most influential women, Jamie Rivera, celebrity singer of the Philippines, and currently, Lournalyn "Apol" Mora, single mom beauty queen and 1st Mrs. Queen of the Beautiful Planet. We give a grateful shout-out to Robert Healey of the University of California, San Diego, as our ever-diligent website manager. Read up on our Angel Rising Magazine and become an "Angel Riser!" Visit www.angelrisingmag.com and be amazed.
---
Project Michelangelo now has 5 Philippine Progeria children under their protection and medical assistance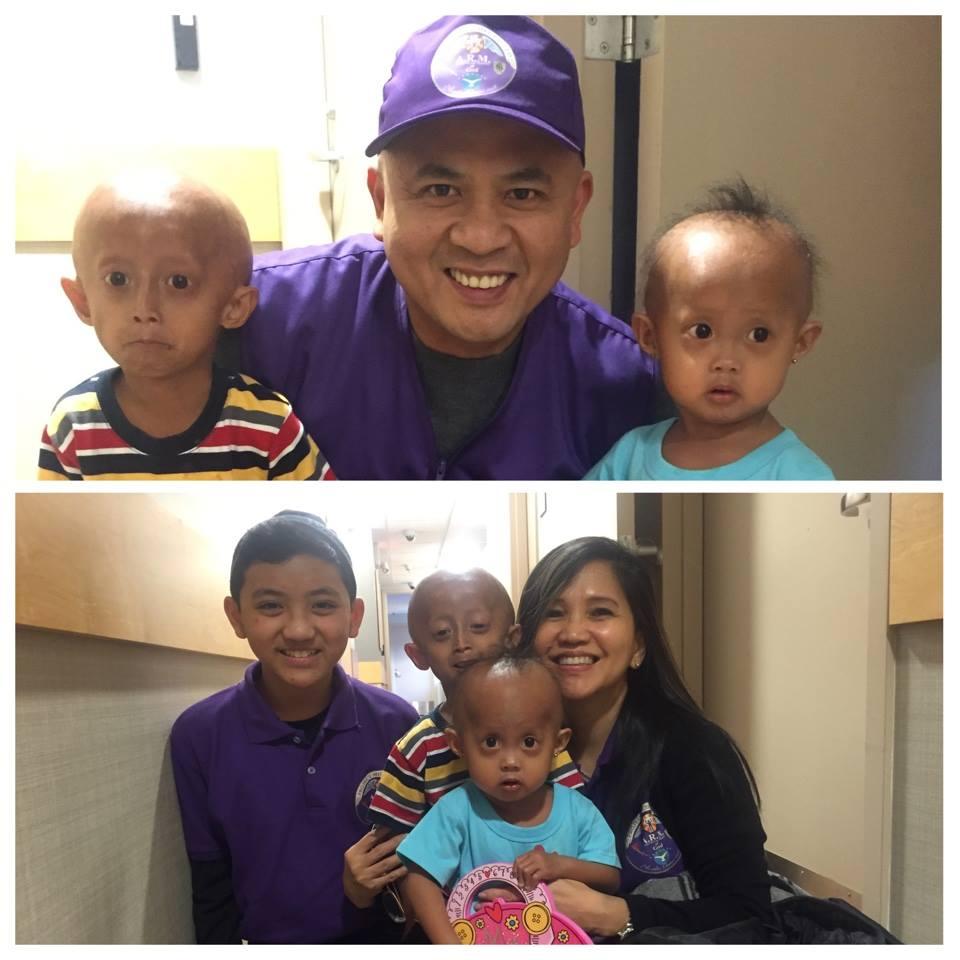 In a constant search to assist the Progeria Research Foundation and locating the very few rare cases of Progeria that afflict children causing advanced aging and shortened lifespan, Project Michelangelo set out to find the few cases suspected in the Philippines. We now have 5 of these wonderful children to assist medical care and empower through the mission directorship of angel Enrico de Guzman, our PMF Missions Team Leader and Coordinator based in Manila, Philippines. Our 3rd and 4th cases are both siblings and received their clinical trials with the Progeria Research Foundation at Boston Children's Hospital in Boston, Massachusetts, USA. They were received by our PMF Vice President, Dr. Imelda Cruz Banting of New York accompanied by her family.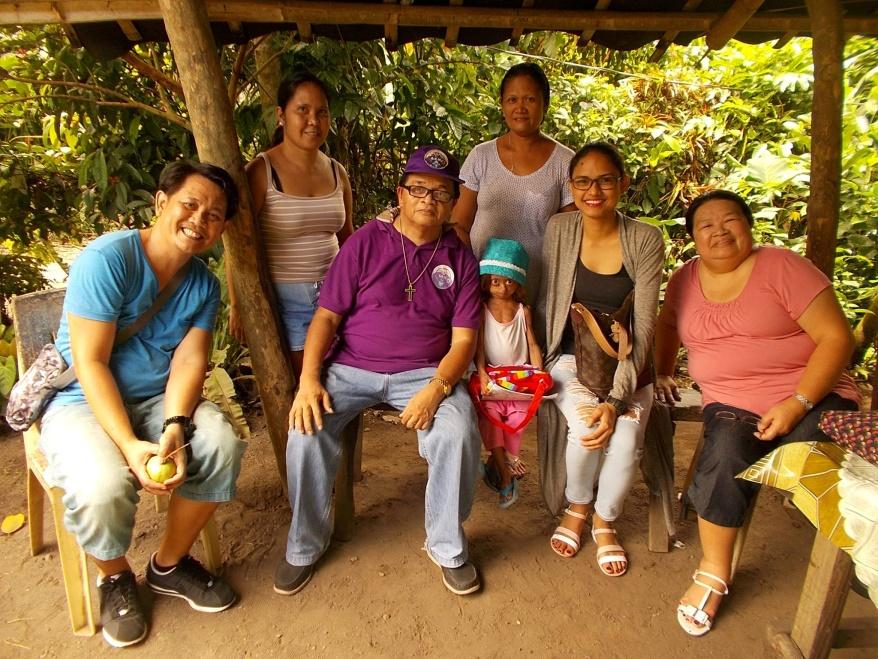 The 5th case was recently discovered through social media and our PMF Angel Team comprising Enrico De Guzman, Bebot de Guzman, Ms. Queen of the Beautiful Planet Apol Mora, and Dennis Asis, was dispatched in the far reaches of Bicol, Philippines to meet the family to prepare them for application for clinical trials with the Progeria Research Foundation.
---
Project Michelangelo Foundation reaches space, a High Altitude Balloon Empowerment Mission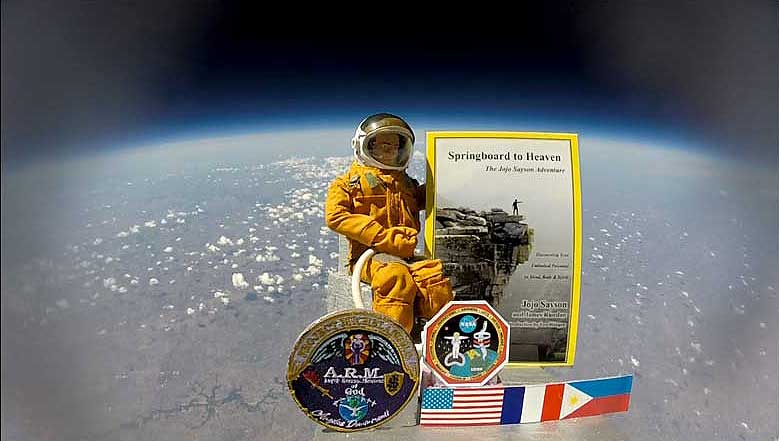 Last May 30, 2016 on Memorial Day at Koerner Aviation Airport in Kankakee, Project Michelangelo Foundation (PMF) in partnership with the NASA IVD Team for the International Space Station, High Altitude Balloonist Darryl Hedges of HAB LLC with volunteers from the Kankakee Area Radio Society (KARS) conducted a successful mission to send a payload to space pulled by a High Altitude Balloon at an estimated altitude via telemetry of over 98, 832 ft., almost three times the cruising altitude of commercial jetliners. The payload carried Astronaut Bob, a 12 inch G.I. Joe action figure, a copy of Springboard to Heaven, the Jojo Sayson Adventure motivational book with proceeds directly donated back to the children's empowerment & rescue missions of PMF, mission patches of PMF & the NASA IVD Team, flags of the United States, France, and the Philippines. This space mission endeavor is also a S.T.E.M. (Science, Technology, Engineering, Math) educational awareness & a commemoration for the victims of the Paris terror attack in 2015. The Actual Flight Time of the High Altitude Balloon flight to space and back to Earth with a parachuted payload equipped with 2 GoPro cameras and flight recording instruments was 2 Hours 6 Minutes 53 Seconds. The altitude, direction, temperature, speed, ascent and descent rate information were tracked in real time via telemetry and GPS using the APRS.FI website by Mission Control held at Jojo Saysonís Physical Therapy & Rehabilitation clinic in Bourbonnais. Finally, the payload was retrieved in a field by the Launch/Chase Team east of the launch site past the Indiana State line 26.67 Miles from the launch site. This Mission to Space was primarily intended to inspire both children and educators to become pro-active in achieving higher educational standards and promote peace and cooperation to all the nations of the world.
Rappler.com news on this story: http://www.rappler.com/move-ph/balikbayan/135075-filipino-scientist-nasa-sends-astronaut-bob-space
---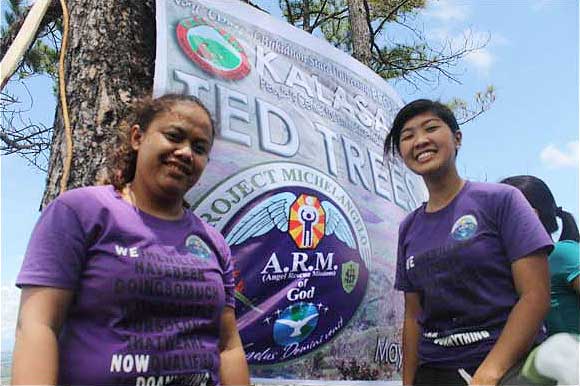 Mission Ted Trees, Angels planting trees in the Philippines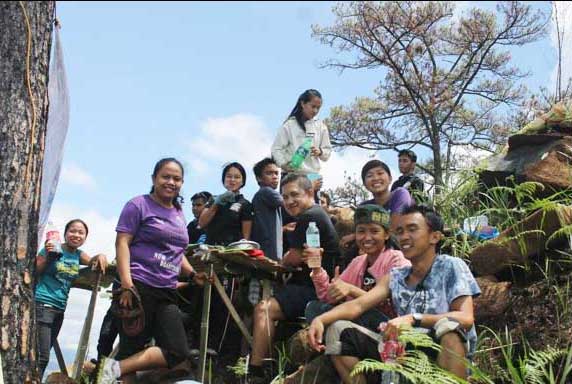 June 5, 2016, Mission Ted Trees: Angel Rhondell M. Paraiso leads his PMF volunteers mobilizing 500 youths to the mountains devastated by forest fires to plant 4,500 saplings in a reforestation initiative to prevent erosion and save the forests of Bukidnon, Northern Mindanao, Philippines. Tree saplings donated by Angel Doc Ted Esguerra, PMF Chief Medical Officer & Rescue Field Commander. PMF is truly proud of these true angels of humanity and nature. God bless these amazing souls!
---
About the Foundation
Project Michelangelo is an independent and private organization established in 2011 and conceived from human elements of compassion and hope mobilized into angelic-like response for humanity through educational endowment for needy but deserving children and young adults, assistance to children with cancer and life-threatening diseases, helping grant a wish for a terminally-ill child, and partnership with rescue organizations in times of calamities and disasters.
The name Michelangelo means "messenger who resembles God" and is the image and essence of the foundation's mission in delivering hope and watching over to empower the children of the world and their appointed guardians. Our commitment to accountability and unique innovations will lead us into the heart of communities anywhere on the planet where these children belong through collaborative means. We believe in hope to change the world into a better place to live in through education and setting of a moral code through passionate belief in the Almighty in the hope of finding and nurturing the next generation world leaders.
Project Michelangelo revolves around the belief that teaching a paradigm shift in the minds of children from helpless to powerful can help them achieve any dream in life they can ever imagine. This Foundation is based in Illinois, USA and currently collaborates with the Republic of the Philippines.
---


---

Project Michelangelo Foundation
---
Project Michelangelo Foundation is registered under both The Charitable Trust and The Solicitation for Charity Acts CO# 01068679 issued by the Office of the Attorney General of the State of Illinois, 03/06/15
"Each one must give as he has decided in his heart, not reluctantly or under compulsion, for God loves a cheerful giver"
-2 Corinthians 9:7
Meet Rochelle, and learn about her life with progeria.
Meet our International Board of Directors
Along with Project Michelangelo founder Jojo Sayson, this humanitarian team is dedicated to grant wishes worldwide.
---
Mission Statement
To ignite the fire of compassion in the human heart, to give hope and inspiration, and to take action in helping empower the children of the world and its appointed guardians.
Motto
An Angel and a Hero for every child.
---