Latest News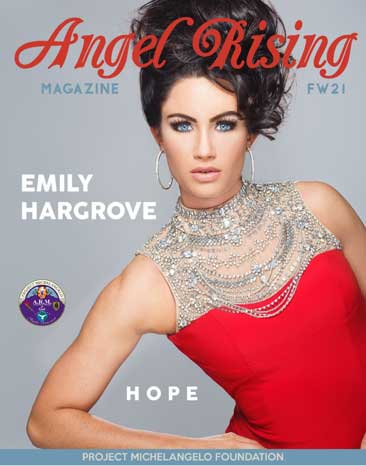 Our long awaited 2021-22 Fall/Winter edition is here!
Join us work together in empowering women worldwide by sharing our newest ARM issue! Invite readers to come visit our site & be moved by our new theme "Hope." Let them know about our most inspiring stories from amazing women from all over the world, browse through the creative writing pieces of women from all walks of life, learn new cultural recipes, be moved by innovative artwork submissions, & see what's going on with the angels of Project Michelangelo Foundation worldwide! Announce to all that this empowerment magazine is brought to you free of any costs as a humanitarian & empowerment initiative of Project Michelangelo Foundation in "empowering women to change the world." www.angelrisingmag.com
Angel Rising Magazine's Fall-Winter 2021 edition features the lovely Emily Hargrove on our issue's new theme -"Hope." Read about Emily, our feature interview & learn about her incredible story of hope with God from being almost hopelessly born as a Fetal Alcohol Syndrome baby to becoming Miss Illinois Outstanding Teen, a PhD candidate on Research Psychology, & more but most of all, becoming a new mom to a beautiful baby boy. Read up, be inspired, be moved, be hopeful.
ARM 2021-22 F/W edition Theme: Hope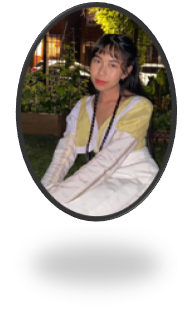 "We are all beset with all sorts of problems, challenges, & hurdles in life that in the bleakest moments, when all signs for resolution or help seem lost, we can hold onto "hope." The times when situations seem hopeless & no one is around to turn to anymore, with all distractions in life are set aside, then one discovers that God has always been there. It is only in discovering the truth that you are precious in the eyes of the Father that you will finally discard your own pride & when upon reaching genuine humility will one hold onto this divine hand, the anticipation, & certitude of heart & soul that all will be well not in our hurried timetable but that of God's timing. When one begins to accept this trust, one will have faith so magnificent that no mishap, no person, no storm can ever lead you away from all the good things that were meant to be for you. On this new theme of "Hope" for this Fall/Winter issue, we will tell your story & expression of hope so that others who are struggling would find hope & be lifted. You are loved, you will prosper. Life is good."

Jade Sayson, Editor-in-Chief ARM
---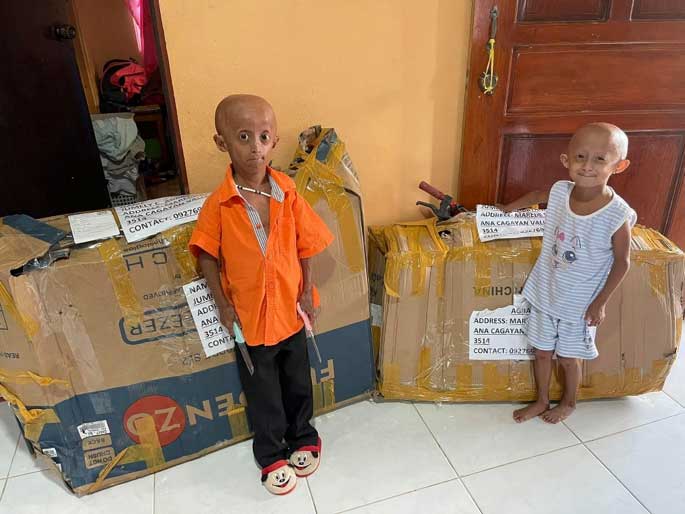 Oct. 23, 2021: PMF Cares thank you angel bro Enrico L. de Guzman. "We are very happy to facilitate the bike donations in the Philippines by Mr. Roy Maceda and his group "Bike for Every Juan" to our Progeria Children, Kim Asis of Fairview, Quezon City and siblings Jesshsaiah and Jenezha of Marede Sta. Ana, Cagayan. Likewise, we also thank the group for the milk and school supplies for Jenezha and Jeshaiah. THANK YOU VERY MUCH, ROY AND YOUR GROUP FOR SUPPORTING US IN OUR MISSIONS!"
---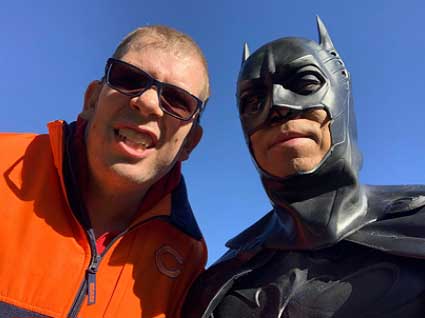 Oct. 23, 2021: Christopher's Day with The Batman & kids on the Kankakee River
On the 25th anniversary of the Alliance of Superheroes, a subsidiary of Project Michelangelo Foundation. Christopher has been friends with Jojo Sayson for 23 years to date since he lost his father. He does not have any close sibling to visit with him or spend time with him & so once in a while, he would ask Jojo to spend time with him. Today was that perfect day as Christopher has never been on a boat before. Riding a motorboat on a river was surely exciting for him. Christopher also graduated as an "angel archer" of Project Michelangelo Foundation's Mission Bull's Eye empowerment classes using archery & Scripture. His mother tells Jojo how excited Christopher was when Jojo picked him up at his apartment in the BatHummer! All smiles & laughter for Christopher. Special thanks to Dale Winkel for providing the boat & Bat Ski & Mike Kamp for his photography & videography together with his 2 children. Spend time with children & the child at heart & you will spend time with Jesus Christ. "Protect the children" - Jojo Sayson aka The Batman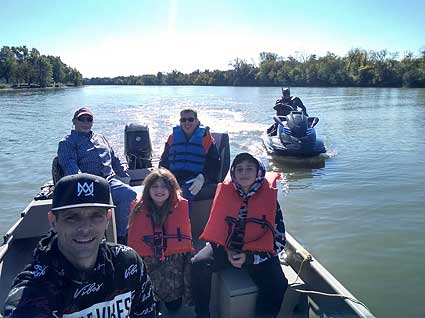 ---

Oct. 22, 2021 PMF Newsfeed: Presenting, Project Michelangelo Foundation's new fundraiser on Youtube, "3:16 Blend" medium roast ground coffee in partnership with angel bro Brian Viers of Viers Coffee. Wake up to God, try our "3:16 Blend!"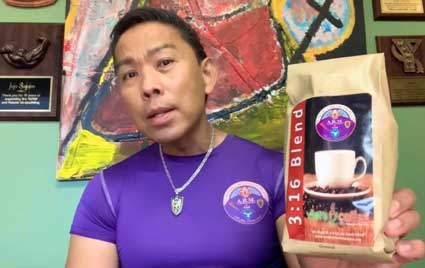 Project Michelangelo: Our "3:16 Blend"coffee to lift up your spirits intro 2021 - YouTube
---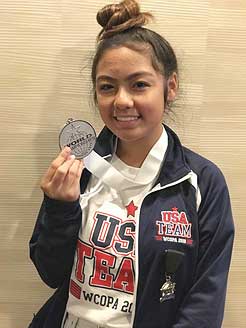 Oct. 15, 2021 PMF Newsfeed: Congratulations to our angel Bella, daughter of angel sis Janette Doria!
Congratulations Ysabella Alberto as WCOPA Ambassador to represent TEAM USA on the upcoming World Championship of Performing Arts "Talent Competition" to be held at Disneyland, California July 22 to 30,2022 where 60+ Delegates on different countries will arrive to compete. As we remember, in July of 2018 Bella became the Silver Medalist Team USA Model Division and we are very thankful to Ms. Jan Bacobo Marco for offering Bella the opportunity to compete and God has blessed her to win her title. Part of Bella's responsibility is to audition contestants for next year's competition.
---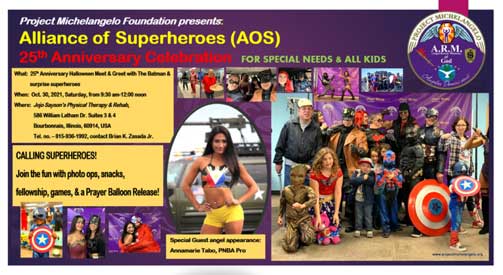 Oct. 18, 2021 PMF Newsfeed: Our Alliance of Superheroes is now 25 years old! We resume our meet & greet for special needs & all kids including the kid at heart, this Oct. 20, 201 Saturday at the PMF HQ in Bourbonnais, Illinois, USA.
CALLING SUPERHEROES! an Invitation
Project Michelangelo Foundation presents & resumes our Halloween Meet & Greet with the Batman & surprise superheroes on Oct. 30, 2021, Saturday from 9:30 am-12:00 noon to be held at Jojo Sayson's Physical Therapy & Rehab., 586 William Latham Dr. Suites 3 & 4, Bourbonnais, IL, 60914 USA.
Enjoy photo ops, snacks, games, fellowship & a Prayer Balloon release with your prayers, wishes, & intentions written on the balloons to be launched to the sky. Capacity may be limited so please private message me or call Brian K. Zasada Jr. at 815-936-1992 to reserve your prayer balloons.
To the Batcave! - Jojo Sayson aka The Batman
---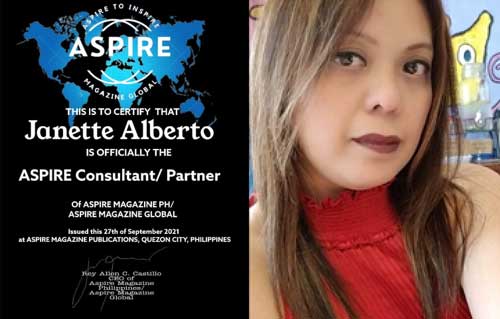 Oct. 17, 2021 PMF Newsfeed: Congratulations angel Janette Doria of New Jersey for this International honor! Thank you for always carrying the PMF flag wherever life takes you for the betterment of humanity!
---
Oct. 17, 2021 PMF Newsfeed: Congratulations angel bro Rhondell Paraiso of Malaybalay, Bukidnon, Northern Mindanao, Philippines on his Youtube channel showing the many ways a prepper could be a one-man rescue team, a one-man army, & a one-man battalion, an active expression of love for life & saving lives.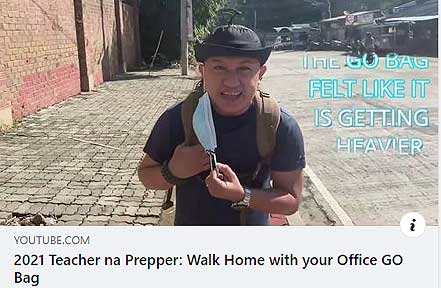 Click this link: 2021 Teacher na Prepper: Walk Home with your Office GO Bag - YouTube
---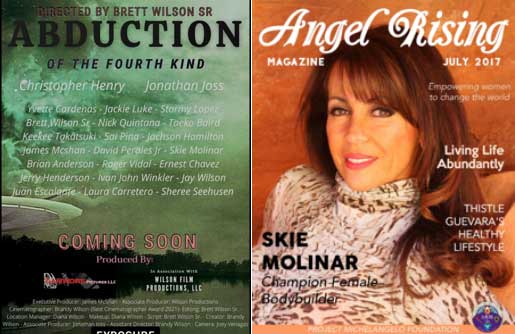 Oct. 10, 2021: Congratulations to our angel Skie Molinar, past covergirl of ARM, for being part of an upcoming movie! Way to go angel! You deserve this & I am very proud of you. Keep ignited, inspire us all!
---
Oct. 9, 2021 PMF Newsfeed: Gratitude Message from Kilauea Volcano, Kona, Hawaii


Dear PMF family,
Here is A message of gratitude & a blessing on Youtube from Jojo Sayson's Project Michelangelo Foundation at the rim of the caldera of the active Mt. Kilauea Volcano in Kona, Hawaii. Click here: Project Michelangelo: Thank you Donors from Mt. Kilauea Volcano Caldera in Kona, Hawaii 2021 - YouTube
Just a bold believer - Jojo Sayson
Ps: you are all in my heart wherever God takes me around the world. Love you all for all the good you do.
---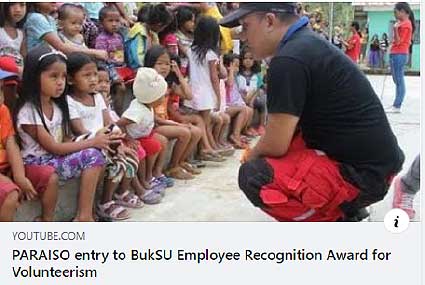 Sept. 30, 2021 PMF Newsfeed: Congratulations to angel bro Rhondell Paraiso! He has now crossed the threshold now I hold dearly as one of the Legends of PMF! Hooyah! Click this link: PARAISO entry to BukSU Employee Recognition Award for Volunteerism - YouTube
---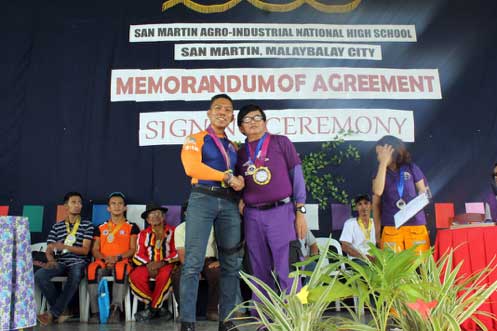 Sept. 26, 2021 PMF Newsfeed: Special thanks to Mr. Enrico L. de Guzman, Executive Director of PMF Philippines for his continued missions despite the very strict COVID restrictions. He adds, "Project Michelangelo Foundation CARES:
OUR MISSION CONTINUES! SCHEDULED GIVING OF RELIEF PACKS TO A GROUP OF TRICYCLE DRIVERS IN GULOD MALAYA, SAN MATEO, RIZAL, TODAY, SUNDAY, 9-26-21!"
---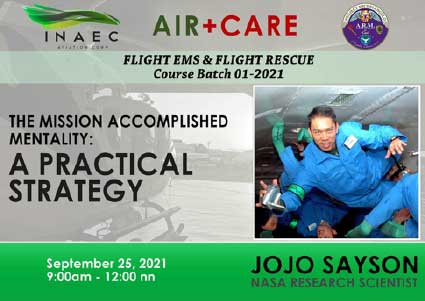 Sept. 25, 2021: Thank you angel bro Ted Everest Doc Esguerra for your kind invitation, recommendation & arrangement for me to be a speaker for the INAEC AIR+CARE Flight EMS and Air SAR Course Batch 01-21.
I truly enjoyed the company of inquisitive minds willing to learn new ways & methodologies of thinking to achieve positive changes not only in their personal lives but for when they are deployed for life saving rescue missions. I am now more hopeful that this group can help initiate some thinking methodology changes in children with God foremost in their new paradigms of thinking.
God bless us all & may we see nothing but blue skies ahead - Jojo Sayson, President/Founder Project Michelangelo Foundation
---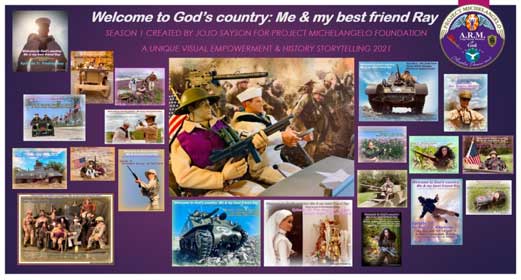 Sept. 10, 2021: As part of the continuing missions to achieve the promised adventures with Ray Olley (1923-2020), Jojo Sayson's late best friend, WWII Veteran & Hero of the Battle of Leyte, 1944, the liberation of the Philippines, PMF developed a unique visual empowerment resurrecting an avatar of Ray together with G.I. Jojo in new & continuing adventures to meet historical figures using G.I. Joe action figures & 12 inch dolls.
20 episodes were completed from April to Aug. 2021 for Season 1 & Season 2 is on the drawing board. This showcase requires the viewer to be like a child for only in doing so will one hear the conversations of the dolls. The setting is WWII & features personas famous & almost forgotten where PMF reminds everyone that our heroes & loved ones long gone here on Earth are all alive & waiting for us in the next dimension. a holy place where there are no tears, & where God restores all in God's country.
Be amazed, be hopeful, see you at the top - Jojo Sayson
to view the 20 episodes: https://www.facebook.com/media/set/...
---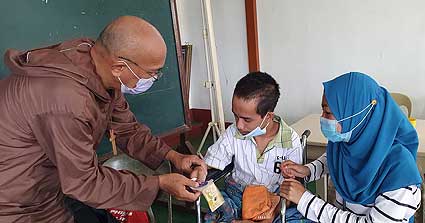 Sept. 3, 2021 PMF Newsfeed: Special needs assistance in Tawi-Tawi, Mindanao, Philippines. Thank you angel Bro Martin Francisco
Our very own angel bro Bro Martin Francisco embarked on one final mission to help the tribal special needs children & adults with empowerment, food, & cash help c/o of our wonderful donors. These needy are a combination of Christians, Muslims, & Tribal faiths. We do not discriminate preferences of faith wherever we go. Please pray for our good angel bro for he is doing PMF missions amid danger to his life where this small island has been known for extremists who kidnap or murder humanitarian workers including the clergy. I am in awe of the courage & faith of this man, our angel bro who offers his life for the service of the poor with his vow of poverty & devotion to the Blessed Virgin Mary. We are one, we are PMF....
---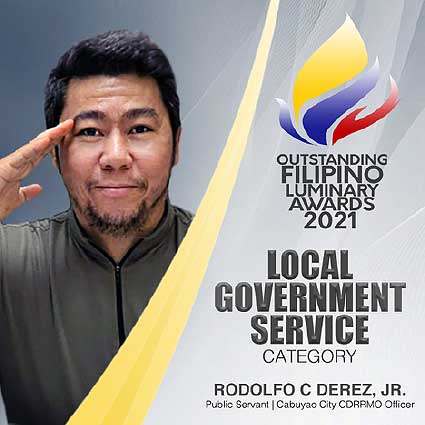 Aug. 31, 2021 PMF Newsfeed: Congratulations in these precious awards angel bro Rudy Derez of Cabuyao, Laguna, Philippines.
We are very proud of you. Carry the PMF banner on you for the world to see & know our missions for humanity. Hooyah!
---
Aug. 21, 2021: Project Michelangelo Foundation is proud to announce & congratulate our very own angel Desiree Fletcher Caruthers, a past covergirl of our Angel Rising Magazine, as Champion & 1st place winner in her Pro Debut in the Masters Bikini Class with a $1,200 cash prize! This is the USBF (United States Bodybuilding Federation) Midwest Legends Classic, promoted by Jack Halverson! This is also a natural bodybuilding competition held in Washington, Illinois (East Peoria), USA.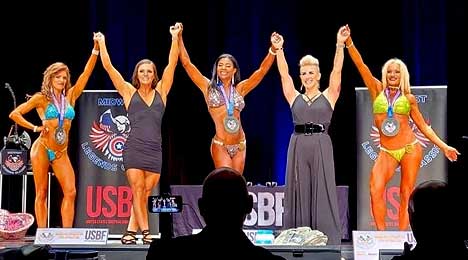 Desiree Fletcher Caruthers of Des Moines, Iowa, USA, as Ambassador and new addition to the editorial staff of Angel Rising Magazine. She is a high-energy champion of good health as a wellness coach, Pro-Natural Bikini bodybuilding competitor and co-host of the weekly "Real Talk with Desiree & Kaelin" podcast as well as host of a nutrition program, "Temple Building from the Inside Out" on KPOG Power of God 102.9 FM.


Please donate to our
Project Michelangelo 2021 Missions Budget
---


---

Project Michelangelo Foundation
---
Project Michelangelo Foundation is registered under both The Charitable Trust and The Solicitation for Charity Acts CO# 01068679 issued by the Office of the Attorney General of the State of Illinois, 03/06/15
"Each one must give as he has decided in his heart, not reluctantly or under compulsion, for God loves a cheerful giver"
-2 Corinthians 9:7
Meet Rochelle, and learn about her life with progeria.
Meet our International Board of Directors
Along with Project Michelangelo founder Jojo Sayson, this humanitarian team is dedicated to grant wishes worldwide.
---
Mission Statement
To ignite the fire of compassion in the human heart, to give hope and inspiration, and to take action in helping empower the children of the world and its appointed guardians.
Motto
An Angel and a Hero for every child.
---