Latest News
October 2017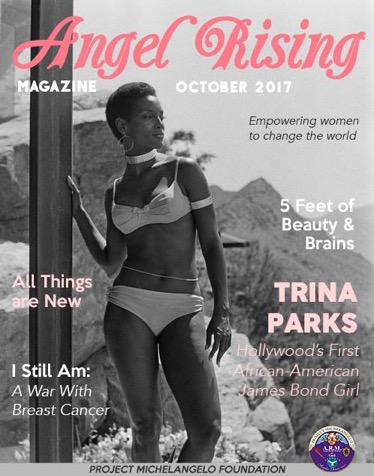 Our October 2017 edition of Angel Rising Magazine is now ready to deliver empowering interviews and submissions from women all over the world! Please welcome our new cover girl, the legendary Trina Parks, Hollywood's first African-American Bond Girl! Read up on her inspiring interview and more!

Jojo Sayson, Publisher, ARM.
A message from Jade Islan Sayson, ARM Editor-in-Chief:
Hello angel risers! From leaves changing color to pumpkin spice everything, we all know there's too much to love about autumn. It's a time of reflection—when rough days are sometimes only a brisk walk away from being better. The trees and the seasons change, so naturally, we change with them. And whether you're a college student trying to survive midterms or just an average person trying to get your life together (trust me, we all are), every transition comes with its own ups and downs. In this issue, our contributors teach us how they deal with these instances and to never settle for lukewarm, despite all the obstacles that come their way. We hope these stories inspire you to do the same as they manifest how self-improvement is always 100% possible, no matter what the circumstances! Even Angel Rising Magazine is undergoing some huge changes (spot the difference, anyone?). Together, we can set out to endlessly create ourselves, because there's nothing wrong with admitting that you're under construction.
Jade Sayson
Editor in Chief
http://www.angelrisingmag.com/current-issue
---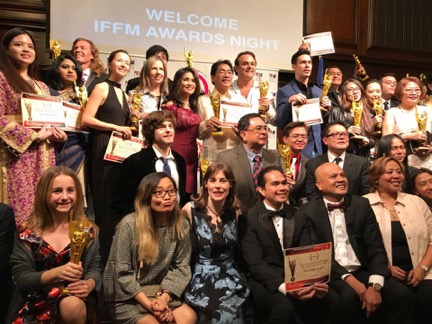 Project Michelangelo Foundation with VP Dr. Imelda Banting sponsors The 7th International Film Festival Manhattan Awards Night
On October 18, 2017, Project Michelangelo Foundation was part of the Seventh International Film Festival Manhattan (IFFM) awards night celebrated at the Kalayaan Hall, Philippine Center, Fifth Ave., New York City, USA. It was well attended (standing room only) by several filmmakers, actors, producers, scriptwriters from all over the world. The event has been successfully headed by Luis Pedron for seven years now, with the exceptional partnership of Gerry Balasta and Jeanette Marco.
At the beginning of the night, the original song, ROCHELLE (Tribute to Progeria Kids), written and sung by the PMF Vice President, Dr. Imelda Cruz Banting, was played along with the MTV showing on the screen. It was a great opportunity for PMF to be introduced to the film industry/showbiz and make them aware of the missions done by the foundation. We hope to get some support from them in the near future.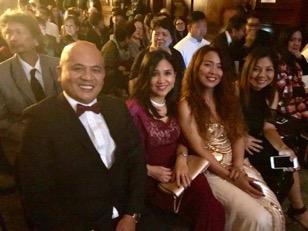 Included in the attendance was our very own angel DJ Chinita, who graced the red carpet interview of the stars, directors, and producers. It was indeed a night filled with meeting new acquaintances and fellowship. Hopefully this is not the first and last time.
---
September, a sad time for our Project Michelangelo Foundation family
Nova Mae O. Divinaflor, 8, one of the special children under our care in the Philippines lost her battle with the debilitating effects of Progeria or advanced aging in children. She is now laid to rest in Bicol, Philippines escorted by our PMF family under the leadership of our PMF Exec. Director Enrico de Guzman. We would like to thank all of our donors worldwide who helped in all of the medical and burial expenditures. For this outpouring of kindness, we bless you in the name of Jesus Christ.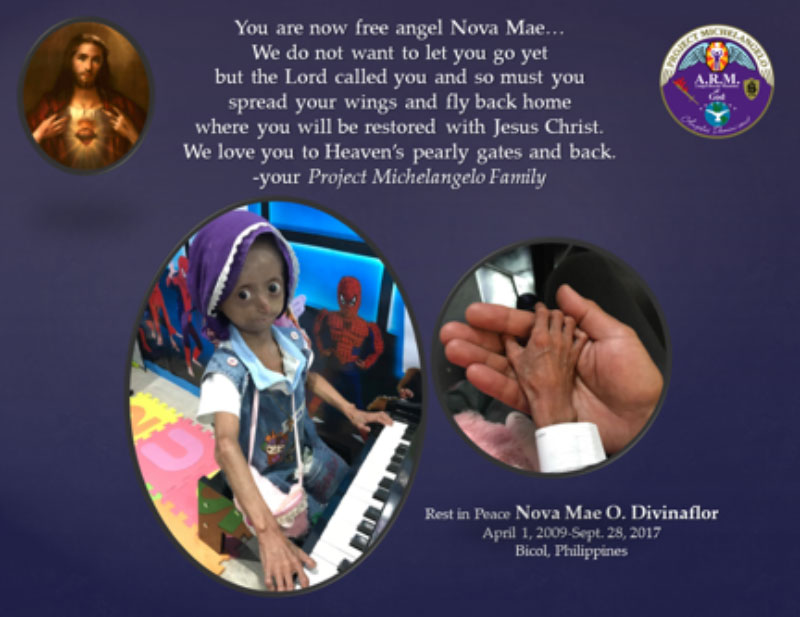 ---
---
About the Foundation
Project Michelangelo is an independent and private organization established in 2011 and conceived from human elements of compassion and hope mobilized into angelic-like response for humanity through educational endowment for needy but deserving children and young adults, assistance to children with cancer and life-threatening diseases, helping grant a wish for a terminally-ill child, and partnership with rescue organizations in times of calamities and disasters.
The name Michelangelo means "messenger who resembles God" and is the image and essence of the foundation's mission in delivering hope and watching over to empower the children of the world and their appointed guardians. Our commitment to accountability and unique innovations will lead us into the heart of communities anywhere on the planet where these children belong through collaborative means. We believe in hope to change the world into a better place to live in through education and setting of a moral code through passionate belief in the Almighty in the hope of finding and nurturing the next generation world leaders.
Project Michelangelo revolves around the belief that teaching a paradigm shift in the minds of children from helpless to powerful can help them achieve any dream in life they can ever imagine. This Foundation is based in Illinois, USA and currently collaborates with the Republic of the Philippines.


Please donate to our
Project Michelangelo 2017 Budget
---


---

Project Michelangelo Foundation
---
Project Michelangelo Foundation is registered under both The Charitable Trust and The Solicitation for Charity Acts CO# 01068679 issued by the Office of the Attorney General of the State of Illinois, 03/06/15
"Each one must give as he has decided in his heart, not reluctantly or under compulsion, for God loves a cheerful giver"
-2 Corinthians 9:7
Meet Rochelle, and learn about her life with progeria.
Meet our International Board of Directors
Along with Project Michelangelo founder Jojo Sayson, this humanitarian team is dedicated to grant wishes worldwide.
---
Mission Statement
To ignite the fire of compassion in the human heart, to give hope and inspiration, and to take action in helping empower the children of the world and its appointed guardians.
Motto
An Angel and a Hero for every child.
---