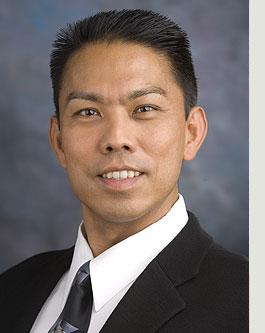 Jojo Sayson
CEO/President
Jojo Sayson's Physical Therapy & Rehabilitation
www.jojosayson.com
Dr. Jojo Valcos Sayson, Author, Pro-Active Christian Apologist, Humanitarian, Physical Therapist, is the World's 1st Doctor of Manual Therapy from the Philippines & Master of Orthopedic Manual Therapy through The Ola Grimsby Institute. He is a Fellow of the American Academy of Orthopedic Manual Physical Therapists (AAOMPT), an international educator, motivational speaker, and Lead co-investigator for Spine Strength assessment of twelve International Space Station (ISS) astronauts belonging to the NASA IVD Team's In-flight definition study "Risk of Intervertebral Disk Damage after Prolonged Spaceflight" with Dr. Alan Hargens as Principal Investigator. He has appeared in countless radio and television programs for interviews most notably in NASA's Space Station Live: A Pain in the Back. interviewed regarding his role as a co-investigator for their inflight-definition study with astronauts in 24 ISS Expeditions. Dr. Sayson was also the designer of the official NASA IVD mission patch that was flown to the ISS in a Soyuz rocket & back in 2013.
With a desire to inspire children to become future scientists, explorers, & game changers in science & humanities, Dr. Sayson, a past astronaut candidate applicant, pursued activities that led him to become the 1st Filipino American Physical Therapist Weightless Certified, on-board G-Force One (Boeing 727) for 15 parabolas from 24,000 ft.-34,000 ft over the Gulf of Mexico experiencing 1 Martian (1/3 G), 4 Lunar (1/6 G), and 10 Zero-G environment, with Dr. Peter Diamandis CEO, Zero-Gravity Corporation and X-Prize, and Astronaut Robert Springer on Jan 21, 2006. He is also the 1st Filipino to send & retrieve the Philippine & US flags including a GI-Joe 1/6 scale toy astronaut action figure on a payload to near space (beyond 100,000 ft. altitude) using a High-Altitude Balloon in cooperation with HAB LLC & Project Michelangelo Foundation to promote S.T.E.M. in schools.
Dr. Sayson is currently the Human Performance Consultant for "Project Blackbird," a civilian initiative to build the world's fastest Rocket car and regain the Absolute Land Speed Record (ALSR) title back to the USA from the United Kingdom in an attempt to break the sound barrier on land at 800 mph land speed record. Dr. Sayson is a 2006 recipient of the highest alumnus award, The Outstanding Alumnus Award conferred by the Royal Pontifical University of Santo Tomas & his name included in the list of the 400 Outstanding Alumni for the University of Santo Tomas' Quadricentennial (400 years) Celebration in 2011; The Outstanding Alumni 2014 for furthering Physical Therapy through his research involvement with the NASA & recognized as one of the 40 Rubies, during the 40th Foundation Anniversary of the Royal Pontifical University of Santo Tomas - College of Rehabilitation Sciences, with the theme, "CRS@40: Forty Years of Commitment, Resilience and Success," the Sofitel Philippine Plaza Manila, Pasay City, Philippines, Dec. 10, 2014; The Chicago-Filipino-American Hall of Fame 2014 for Science/Humanitarian; The 1st recipient, Man of the Year 2015 Award, Men of Value Magazine, an on-line magazine for American men who value Judeo-Christian values of faith, family, and freedom to mention a few of his many conferred international accolades. A humanitarian, Dr. Sayson is the President/Founder of Project Michelangelo Foundation (www.projectmichelangelo.org) since 2011 and was officially recognized by a Congressional Proclamation from The United States House of Representatives, Washington D.C. recorded Saturday, Nov. 2, 2019, signed by Congressman Jefferson Van Drew. Dr. Sayson serves as protectorate of the six living children in the Philippines afflicted with the rare disease Progeria (advanced aging in children). He has established the Angel Rescue Response Team (ARRT) and Angel Rescue Cadets (ARC) comprised of college student volunteers deployed in times of natural and man-made catastrophes for rescue operations as well as tree-planting initiatives for reforestation and educational outreach for tribal children in the remote mountains of Malaybalay, Northern Mindanao, Philippines. Dr. Sayson holding dual citizenship with the US and the Philippines, is an active Lieutenant Commander for the Philippine Coast Guard Auxiliary 107th Squadron. His professional memberships include the American Physical Therapy Association (APTA), the Aerospace Medical Association (AsMA), American Society for Gravitational and Space Research (ASGSR), and the American Astronautical Society (AAS). He is also an active member & of the Rotary Club International among the various groups he belongs to.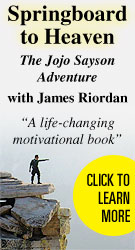 Dr. Sayson is also a bodybuilding choreographer, has judged & sponsored over thirty Natural Bodybuilding championships in Illinois & has also been a motivational coach for the Miss Illinois/Miss America Organization & for the Mutya ng Pilipinas & Miss Global Pageants in the Philippines. His involvement with the Miss Illinois/Miss America Organization began in 2009 as motivational coach for the Miss Illinois class of 2009 and subsequently judged several local pageants. He continues to be a motivational and fitness coach for young women aspiring to become Miss Illinois. In an effort to further empower women all over the world, Dr. Sayson became the Publisher of Angel Rising Magazine (www.angelrisingmag.com) in 2015, a free online & faith-based resource to empower women to change the world with inspiring interview and literary articles written by an all-women team of international writers. He is also the author of Springboard to Heaven, the Jojo Sayson adventure together with 4-time New York best-seller James Riordan in 2012, a motivational biography where 100% of proceeds from its sale were donated back to the empowerment & rescue missions of Project Michelangelo Foundation. This book was personally endorsed by 2 astronauts.
Dr. Sayson was a resource person via Zoom meeting live with the Philippine House Committee on Veterans Affairs and Welfare on Sept. 22, 2020 resulting in the approval & adoption of House Resolution 1157 commending Dr. Jojo Sayson's American best friend, Quartermaster 2nd Class (QM2) Raymond Joseph Olley (1923-2020) for his heroic acts for the Philippines during World War II thereby posthumously awarded one (1) Philippine Liberation Medal, one (1) WW II Victory Medal and one (1) Filipino WW II Veterans Congressional Gold Medal (with a copy of Public Law 114-265). To date, Dr. Sayson, initiated a national endeavor named the "Ray Olley Memorial Project" to build a WWII memorial in Illinois, USA to remember the Battle of Leyte Gulf, 1944, the Liberation of the Philippines, to honor all veterans of all wars & conflicts including the Allied forces, awareness on PTSD-related suicide among the military, awareness against animal cruelty especially with service dogs, & to keep the stories alive for the children. For further information, to help, or donate, please visit
www.rayolleymemorial.com
.