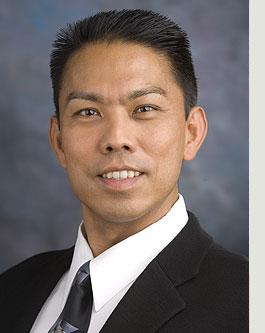 Jojo Sayson
CEO/President
Jojo Sayson's Physical Therapy & Rehabilitation
www.jojosayson.com
Jojo Sayson, a world renowned international educator, motivational speaker, and NASA research scientist, received his Bachelors of Science in Physical Therapy from the Royal Pontifical University of Santo Tomas in the Philippines and his Masters Degree, and Doctorate in Orthopedic Manual Therapy through the Ola Grimsby Institute in Salt Lake City, Utah. A Fellow of the American Academy of Orthopedic Manual Physical Therapists, Jojo is a national & international lecturer in its advanced concepts for science students, physical therapists, physicians, and dentists. He is also a Board of Director and Examiner for the Ola Grimsby Institute's international doctoral candidates. Jojo is also a member of the American Physical Therapy Association (APTA), American Academy of Physical Therapists (AAPT), the Aerospace Medical Association (AsMA), and the American Astronautical Society (AAS), American Society for Gravitational and Space Research (ASGSR), the Lions Club International, and the Rotary Club International.
Jojo is a consultant/co-investigator (with Dr. Alan Hargens) for the National Aeronautics and Space Administration (NASA) Human Research Program at the University of California, San Diego with a NASA grant to examine the risks of spaceflight on spinal deconditioning in crew members of the International Space Station. He is the lead scientist for the NASA IVD Team evaluating the back strength of crewmembers before and after 180 day missions on board the International Space Station in their on-going study titled "Risk of Intervertebral Disc Damage after Prolonged Space Flight". He started as a volunteer scientist for NASA at the University of California, San Diego and his research "Pathophysiology of Low Back Pain during Exposure to Microgravity" together with NASA scientist Dr. Alan Hargens was published as the world's first theory proposed on why astronauts develop low back pain in space and high incidence of herniated disks after spaceflight in the Aviation, Space, and Environmental Medicine journal in 2008. In Acta Astronautica journal, He published an expanded 2013 research with proposed countermeasures titled "Back Pain Mechanisms in Space" together with Dr. A. Hargens, Dr. J. Lotz, and astronaut S. Parazynski. His introduction to the scientific community began in 2011 when Jojo represented his NASA IVD Team in a well-received lecture presentation at the International Academy of Astronautics 18th Humans in Space Symposium in Houston, Texas; speaker for the Ola Grimsby Institute Competency Forum in Seattle, Washington in 2013; Keynote Speaker for the 2013 California Physical Therapy Association in Pasadena, California; and in 2014, an invited speaker for the 85th Scientific Conference of the Aerospace Medical Association in San Diego, California, and the 3rd Annual International Space Station Research and Development Conference of the American Astronautical Society in Chicago, Illinois. Their ground-breaking research in spine physiology during space travel landed him an interview for NASA Television to be telecast late 2014. He had also served as a referee for the Netherlands Organization for Scientific Research and Program Bureau Space Research and an assistant reviewer for Acta Astronautica Journal. Jojo is a commissioned Lieutenant Commander for the Philippine Coast Guard Auxiliary, 103rd Squadron, a judge for the North American Natural Bodybuilding Federation (NANBF) as well as the Miss Illinois Scholarship Foundation/Miss America Organization, a bodybuilding choreographer, and a professional model. Add to these, he writes poetry and is into philosophy as his diverse interests take him into many fields of learning and pursuits.
Jojo Sayson travels internationally to give motivational seminars, the Human Factors in Motivation seminar series, which incorporate Neurolinguistic Programming principles; philosophical and spiritual ideations; and principles of Quantum Physics into practical methodologies that participants can use immediately to maximally achieve their personal dreams and goals. As a practicing Christian, Jojo pursues humanitarian projects, foremost of which is his involvement with terminally-ill Filipino children with cancer and other life-threatening diseases. His current involvement include assisting in raising funds for empowerment and education of various orphanages and half-way homes for children with terminal illnesses in the Philippines and an empowerment archery program for children with disabilities and special needs in Illinios, USA while in the very recent past he had built and restocked libraries in far-flung islands of the Philippine archipelago.
In 1996, Jojo formed an informal group of superheroes who visit children in hospitals donned in superhero costumes confining these visits not only to American hospitals but even flying back home to the Philippines for such outreach. Because of all this, in 2006, Jojo was featured by ABS-CBN Global, The prime Filipino Channel in a documentary-drama as the Filipino Superhero for children and was as a special guest in 2010 on Pastor J Live television interview, Comcast Chicago Region Public Access Channels 4, 17, 19, & 35 on the topic of God and Quantum Physics.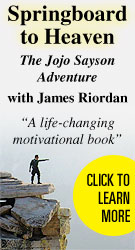 A recipient of numerous recognitions, Jojo takes special pride in his 2003 citation as one of eleven outstanding Filipino-Americans in the USA and in his 2006 University of Santo Tomas' the Outstanding Thomasian Alumnus Award: Health-Allied, the highest and most prestigious award accorded by the university to its alumni who have excelled in their fields and lastly, in a recognition award when his name was included in the list of the 400 Outstanding Alumni for the Royal Pontifical University of Santo Tomas' Quadricentennial (400 years) Celebration in the Republic of the Philippines last Jan. 28, 2011. A civic-minded individual, Jojo has active memberships with both the Lions Club International and Rotary Club International. In 2011, Jojo founded Jojo Sayson's Project Michelangelo Foundation intended for empowerment and educational endowment for needy but deserving children and young adults, assistance to children with cancer and life-threatening diseases, helping grant a wish for a terminally-ill child, and partnership with rescue organizations in times of calamities and disasters led by their Chief Medical Officer and Field Commander, Dr. Ted Esguerra. Empowerment missions in the Philippines include a weekly radio talk show for abused, left-out, and neglected women on DWDD 1134 kHz AM with host, Bulagkaster Rommel San Pascual. To date, Jojo is author of a book project on motivation and fellowship titled "Springboard to Heaven, the Jojo Sayson adventure" written by four-time New York best-seller and Hollywood biographer James Riordan successfully launched with rave reviews in the Philippines in Sept. 2012. During his book tour in the Philippines, Jojo Sayson had been a popular guest in multiple radio talk shows about overcoming depression through motivation and the "Art of Knowing" including a special appearance on a television talk show as the Filipino Superman with the most popular Philippine TV talk show megastar Sharon Cuneta aired on TV 5 last Oct. 11, 2012 and an interview for Chicago cable TV Channel 25 in "Whazzup?!" Jovie Calma Live in Chicago in 2014. His books are carried internationally by Amazon.com and Barnes & Noble Bookstore; and in the Philippines by Goodwill Bookstore.