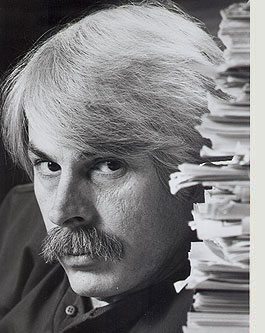 James Riordan
Literary and Film Empowerment
Rare is it that any author will have one of his books described as the definitive work on a particular subject, but such a distinction has been bestowed by critics on no less than four books written by James Riordan. The New York Times Bestseller Break on Through, Riordan's biography of Doors lead singer Jim Morrison, has not only been called "the most objective, thorough and professional Morrison biography" by the Times Book Review but also named as one of the Ten All Time Best Rock Biographies by Amazon.com. Riordan's The Platinum Rainbow (written with Bob Monaco) was called "One of the best how-to books ever written" by the Los Angeles Daily News and "The ultimate career book on the music industry" by Recording, Engineer & Producer. Critics described Riordan's The Bishop of Rwanda as "one of the most important books you'll ever read." and The Coming of the Walrus, Riordan's novel about the 60s as "the definitive book on the era" and "a hilarious tale of a harrowing search for the greatest truth of all". With the release of A Well Thought Out Scream and Madman in the Gate, Riordan pushed the boundaries again with poetry/song lyric books that contain hundreds of stunning, beautiful and poignant images from artists and photographers from all over the world. In the summer of 2013 a new edition of The Coming of the Walrus was released to rave reviews followed by The Kill Switch.
The author of thirty-three books, James Riordan's career began in the music industry where as a songwriter, manager, producer and concert promoter he worked with several well known artists. In 1976 he began writing a newspaper column, Rock-Pop, which he later syndicated. Riordan soon became one of America's premier rock journalists with articles reaching millions of readers including those of Rolling Stone, Crawdaddy, Circus, Musician, and newspapers like The Chicago Daily News and The Kansas City Star. His reputation for relating on a one-to-one level soon led to interviews with George Harri-son, Bob Dylan, Fleetwood Mac, Frank Zappa, The Doobie Brothers, Kenny Rogers, Barbra Mandrell, Crosby, Stills & Nash and countless others. His first book, The Platinum Rainbow (written with Bob Mon-aco in 1980) became the largest selling book ever written about the music business. The guide to "succeeding in the music business without selling your soul" was praised by Variety ,The Chicago Tribune, The Los Angeles Times, The Las Vegas Sun, The Minneapolis Tribune, Billboard, Record World and many more. The Platinum Rainbow became an industry-wide phenomenon and interviews with James Riordan were aired on over 1200 radio stations and numerous television talk shows. Next Riordan collaborated with Pulitzer Prize winner Jason Miller on a mini-series for network television (The Irish) and a movie of the week for CBS (Bless Me Father). In June 1991, William Morrow & Co. published Break On Through to outstanding sales and reviews. Riordan worked as a consultant on Oliver Stone's film of Morrison's life, The Doors, which led to his writing Stone's biography. Published by Hyperion /Disney in December 1995, Entertainment Weekly called STONE "an unflinching biography... enough spectacle to fill a month of daytime-TV talk shows." The New York Post said reading the book was like "the sensory overload of watching all of Oliver Stone's movies back to back." Riordan was interviewed by Inside Edition, People Magazine, The Tom Snyder Show, and many others. From 1997-2000, Riordan created and co-starred in a local television program, Kankakee Valley Prime Time, which won six Crystal Communicators, three Tellys, and earned Riordan a Chicago/ Midwest Emmy Nomination for Writing the program. In the summer of 1999, James Riordan wrote, directed and starred in Maddance, an hour long dramatic project which won Crystal Communicators for Drama, Writing, Acting and Directing.
On April 9, 2000, James' 16 year old son, Jeremiah, was killed as a passenger in an accident that involved three drunk drivers. Shortly after this, James founded Make it Stick which works to warn teens of the dangers of substance abuse and publishes a magazine distributed to high school students. In 2001, he founded Jeremiah's – A Place to be Yourself to give teens a place to hang out away from the dangers of drugs and alcohol. Force to close by its incredible growth rate, Jeremiah's was recognized as one of the fastest growing and most successful teen centers in the United States. In 2004, Toastmasters International named Riordan Communicator of the Year for Central Illinois, the YMCA gave him their Service to Youth Award and the United Way named him the Outstanding Volunteer of Kankakee County. Returning to writing, Riordan went to Africa to write The Bishop of Rwanda, (with an intro by Purpose Driven Life author Rick Warren). In November of 2006, Harper Collins released a new edition of Break On Through followed by The Coming of the Walrus (Image Workshop) in December and The Bishop of Rwanda (Thomas Nelson, Inc.) to rave reviews ("Powerful …plumbs the depths of God's forgiveness and finds no bottom – Publisher's Weekly). In 2011, he won the Pledge For Life Harold Award for his work with area youth. In the summer of 2012, Lee and Shane Stanley (Gridiron Gang) optioned Maddance as a feature film followed by Apothecary Films optioning The Kill Switch in 2013 and Omni Films optioning Final Service to film in May. Riordan joined the staff of the Mancow Syndicated Television and Radio show in January of 2014 and is now seen and heard across America on a weekly basis. His biography is included in Who's Who in Entertainment , Who's Who in Poetry and Contemporary Authors of America.
James Riordan – Works
Books
The Kill Switch, novel with Andrew Dahlmaine, Stonegate Ink, 2013
The Coming of the Walrus, Trade Paperback Edition, Image Workshop Press,
Springboard To Heaven (The Jojo Sayson Adventure) w. Jojo Sayson, Image Workshop Press, 2012
The Elijah Collection, novel collection with Bill Myers, Zondervan, 2011
The Well Thought Out Scream (Poetry/Art), Image Workshop Press, 2009
Madman in the Gate (Poetry/Art), Image Workshop Press, 2009
The Deadly Loyalty Collection, A Forbidden Doors Collection, Zondervan, 2009
The Ancient Forces Collection, A Forbidden Doors Collection, Zondervan, 2009
The Enemy Strikes with Bill Myers (Book 1 in The Elijah Project series. Zondervan, 2009
Deception with Bill Myers (Book 2 in The Elijah Project series. Zondervan, 2009
The Bishop of Rwanda (Finding Forgiveness Amidst a Pile of Bones) Thomas Nelson, March 2007
Paperback Edition May, 2012
The Coming of the Walrus (What Really Happened in the '60s) Image Workshop Books, 2006
Break on Through (The Life & Death of Jim Morrison), William Morrow, 1991.(New York Times
Bestseller, Published in 5 languages, Hardcover, 3 Paperback Editions, New
Harper-Collins Trade Paperback Edition, November, 2006)
Stone (The Controversies, Excesses & Exploits of a Radical Filmmaker), Disney/Hyperion,1995.
(Published in 3 languages, Hardcover, Paperback Edition).
Making It in the New Music Business, Writers Digest Books, 1987, (Second Edition, Revised and
Updated 1991, Two Hardcover Editions)
The Platinum Rainbow (How to Succeed in the Music Business Without Selling Your Soul) 250,000 copies
with Bob Monaco, Swordsman Press, 1980, Twenty-Three Editions, Revised 1988)
25 Year Anniversary Edition, 2005
Capture the Wind (Microphones) with Tom Lubin, Literary Mouse Press, 1989
Private Biography of Russ Kalvin, founder of Kalvin Corp., 1990
Private Biography of Steve Stefano, founder of Joico Hair Products, 1993.
Mystery of the Invisible Knight (Book 2 in the BloodHounds Series) with Bill Myers, Bethany House,1997.
Matters of the Heart (The Life & Times of Edgar Cullman), CulbroPress, 1997.
The Curse (Book 7 in the Forbidden Doors Series) with Bill Myers, Tyndale House, 1997.
The Undead (Book 8 in the Forbidden Doors Series) with Bill Myers, Tyndale House, 1996.
The Scream (Book 9 in the Forbidden Doors Series) with Bill Myers, Tyndale House, 1998
The Ancients (Book 10 in the Forbidden Doors Series) with Bill Myers, Tyndale House, 1999.
The Cards (Book 11 in the Forbidden Doors Series) with Bill Myers, Tyndale House, 2000.
Films
Final Service, co-written with Gary Moore and based on his book, Omni Productions, to be filmed in May, 2014.
Maddance, Writer/Director/Lead Actor, Search Engine Films, Simmcomm, 1999. (Winner of 4 Crystal
Communicators including Best Drama, Screenplay, Director, Male Actor – Austin, TX.1999)
Performance (The Life of Ingrid Bergman), Screenplay, Lancit Productions 1998. Reoptioned by Author in
2000 when Lancit film division closed), Rewritten 2009
Shadowdancers, Story & Screenplay, Story with Bill Myers, 1997
Dr. Babylon, Story 1996.
Air Guitar, Story & Screenplay, 1994
The Platinum Rainbow, Story & Screenplay, 1993
Television/Video
Kankakee Valley Prime Time, Writer, Director, Producer, 1997-2000. (Nominated for Midwest/Chicago
Emmy for Writing, 1998, 3 Telly Awards, 4 Crystal Communicators 1998-2000).
Angels Among Us (The Amtrak City of New Orleans Train Disaster, Co-Producer, (Telly Award, 2000).
River Valley Sports Authority, Producer, 1999-2003.
I Hate The World (Hypnoises Music Video), Writer/Director/Producer, Crystal Communicator for
Best Music Video Concept, 1998).
The United Way (Video) Crystal Communicator for Best Video for a Charitable Organization, 1998.