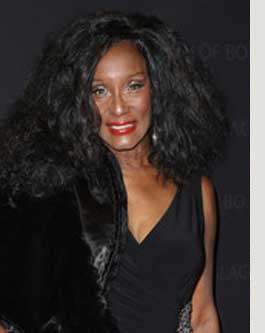 Trina Parks
International Public Relations
*Actress * Vocalist *Choreographer * Black-Dance History Lecturer *Artistic Director.
Ms. Trina Parks was born in Brooklyn NY, to Tennel & Charles Frazier, Famous lead tenor saxophonist, with the Cab Calloway's orchestra.
Trina majored in Modern dance (Martha Graham technique) at the NY High School of Performing Arts. She studied at 14 yrs young, with Ms. Dunham, at the 'Katherine Dunham' Dance School, in NYC. The next year, was asked, by Ms. Dunham, to perform with her last dance company, in 1964, at the famous Apollo Theater, in Harlem, NY. After graduation, in 1965, Trina joined the company, as lead female dancer, in Paris, France, till 1966.
Also as Principal Dancer with: Donnie McKayle, Anna Sokolow, Tally Beatty, Geoffrey Holder, Eleo Parmare & The Rod Rogers, NY dance companies. Trina has taken her 'Katherine Dunham" Dance-workshop & Lecture, around the country, to special educational events, conferences, public schools, Colleges & Universities, since 2001. Trina has performed in many Broadway productions, as a Principal Actress, Vocalist & Dancer, some were:
-'Her First Roman' with Richard Kieley & Leslie Uggums,'
-The 'Emperor Jones' & the 'Great White Hope', both on Broadway & European tours, with James Earl Jones.
-'Bittersweet' with Shirley Jones,
-'They're Playing Our Song' with Joanne Worley
-'House of Flowers' (2nd Production, 1964) & 3rd production co-starred with Patti Labelle.
-'Metamorphoses', at the Mark Taper Theatre, CA. Co-starring with: Bernie Casey, John Rubinstein, Avery Schreiber & Leslie Warren.
-'Changes', off-Broadway production, Co-starring Kelly Bishop.
-'The Snow Queen'-principal, at the NY State Theater, Albany
-'Somebody Called'-principal, with Bob Gossett & Richard Gant (CA).
-'In Dahomey'-principal, with opera Diva, Ms. Shirley Verrett (NY).
-"Sophisticated Ladies" Broadway musical (10th Anniversary, touring production) 'Judith', lead female principal 'Judith'.
TRINA has starred and co-starred in several Motion Pictures & TV dramas:
-"DIAMONDS ARE FOREVER", the character 'Thumper' (the first African American, 'James Bond' Women/Villain). Starring, Sir Sean Connery as '007'.
-The 'MUTHERS', co-starring Jane Kennedy.
-'DARKTOWN STRUTTERS', co-starring Roger Mosley.
-'Night Gallery', with David McCullen, & David Carradine.
-'Mc Coy' (pilot) starring Tony Curtis & Roscoe Lee Brown
-Mr. Sammy Davis Jr., TV special as a principal dancer,
Trina was the opening act, for artists, Muddy Waters, Wayne Cochran, Davis & Reese & Ms. Rusty Warren (comedians). She has also created her first Solo-Singing/Dancing-act, at the 'Ye Little Club', in Beverly Hills, CA. & 'Mr. Kelly's' club, in Chicago, Ill.
Trina was the first American & first African American to perform her solo act, as a guest Artist in the famous 'New Otoni's Hotel's, "Crystal Room"-Club, in Tokyo, Japan; return performances, from 1984 to 1991. She's toured her show, as a special guest artist ("Trina's Tribute to Duke Ellington") at Jazz festivals, in Europe, the United Kingdom & Asia.
Trina's appearances in TV Musical Specials were:
-The 'Dionne Warwick' Special
-The Telly Savalas & the Dean Martin TV Specials.
-The Sammy Davis Jr. show, at the Harrah's, Tahoe
-Trina was special guest dancer, on the 'Michele Le'Grand' TV special, in Paris, France.
Trina was a special guest presenter, at the 4th Anniversary, 'Supreme Master TV', celebration (8/7/2010) & a guest host, for their Music & Poetry Special (9/2010) honoring, Master Musician, Mr. David Benoit.
-From 2003-2008, Trina was the first African American & featured Vocalist/Dancer, in the Palm Springs Follies, CA.
-TRINA was the Artistic Director/Founder, of the "All Male Modern-Classical Dance Company", originating in Palm Springs, CA.
To add to her many accolades Trina has received many protégés awards, her latest includes:
-"DANCE NOIR" (2015)
-"DANCE HONOR"-Award (5-2017) Fulton County of the Arts, GA
-President Obama's:"LIFETIME ACHEIEVMENT" (2016)
-"STELLA" (Katherine Dunham's-Dance award-2015)
-"TRAILBLAIZER & LEGACY" award (2018) GA
-"DEDICATION & COMMITTIMENT (to the Arts & fans) Award (2018) GA
Ms. Trina Parks continues to perform her One-Woman show, "BLACK DIAMONDS ARE FOREVER" (a 'JAMES BOND' theatrical tribute) nationally & internationally!
Email: teabey@yahoo.com
Website: www.iamTrinaParks.com